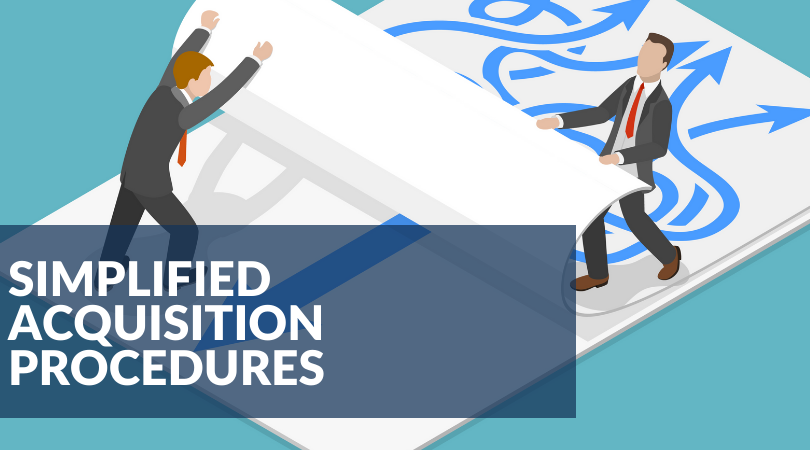 Formally known as the "Federal Small Purchase Threshold", the Simplified Acquisition Procedures are outlined within Federal Acquisition Regulation (FAR) 13. It describes policies and procedures for the acquisition of supplies and services, including construction, research and development, and commercial items. The aggregate amount of which does not exceed the simplified acquisition threshold which is currently $250,000.
So why does the government use simplified acquisition procedures?
Agencies and department use simplified acquisition procedures to streamline the contracting process for a smaller amount of items or a lesser extent of services. This way, they can save time and taxpayer dollars on smaller jobs.
Sources of Simplified Acquisition
Small business
Small disadvantaged business
ED/WOSB
HUBZone small business
SD/VOSB
Payment Procedure
FAR 13.4 indicates the fast payment procedure. The fast payment procedure allows payment under limited conditions to a contractor prior to the governments verification that supplies have been received and accepted.
Debriefs Not Required
Under FAR 13, a formal debrief is not required. A review will be sent to the contractor
on request only if the evaluation was based on factors other than price alone. The term "debrief" is
connected to FAR 14 & 15 procedures.
Back to Basics
As a small business owner, simplified acquisition contracts present a perfect opportunity to win and build past performance in the federal field. Simplified acquisition contracts require a lower amount of working capital and so they can be easier for small businesses to compete. Lower working capital means that small businesses can afford to perform the work and build upon their past performance.
Learn more about FAR,
check out this breakdown
of FAR 12 and 15 from Ellen Beebe, the former Director of Pricing and Estimating at Raytheon.