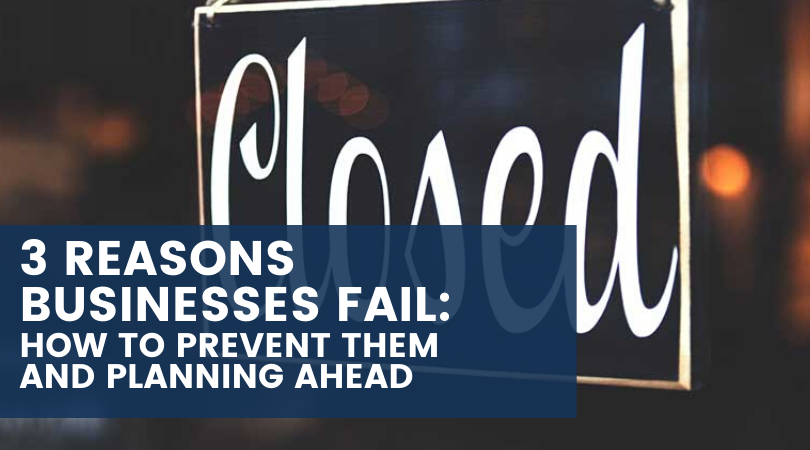 Success is no accident and neither is failure. When looking at the survival rate of small businesses in the U.S., about 80% of them will make it through their first year. However, within a decade's time, this rate will drop to a grim 30%.
Why is this?
Sometimes it seems as if a big meteor (or recession, or new technology, or competitor) came out of nowhere and wiped them clean from the Earth. Other times, it can be a long-due collapse caused by a slowly crumbling foundation.
"About half of all new establishments survive five years or more and about one-third survive 10 years or more. As one would expect, the probability of survival increases with a firm's age. Survival rates have changed little over time." –- U.S. Bureau of Labor Statistics, BED
There are however, three top causes of failure which run through every industry and seal the fates of companies everywhere. As a business owner, you want to do all you can to deter these factors. Plus, you want to lead your company into a state of stability and prosperity so that you can actually plan ahead for your retirement.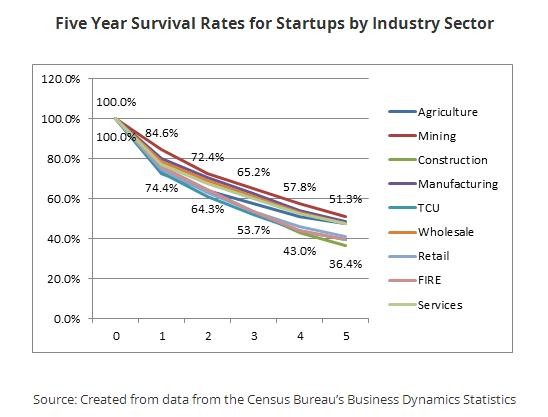 So how do you keep from going out of business, develop a thriving entity, and create the foundation for your exit strategy?
Let's begin with how to handle the top three causes of business failure.
Cause 1: Lack of Leadership
Before we dive into anything else, we have to start from the top. Without solid leadership in a company, you won't be able to take on any other major issues. In a way, it's often the first domino to fall.
This condemning factor can manifest itself in several forms. Sometimes it can be apathetic, incapable, and having a, "just another job," kind of perspective. Other times, it can be hot-headed, constantly frustrated, and micromanaging.
Regardless of which side of the spectrum it falls on, here are some ways that poor leadership will affect your company's staff:
High turnover rate
Low productivity
Low morale
Low collaboration
Abundance of negativity
Pessimism in career path
There's no need to explain in-depth how these symptoms will ruin your company. There is a need however, to explain how to prevent your business from getting this way.
Solution: Communicate, Communicate, and Communicate
"When people talk, listen completely. Most people never listen."–- Ernest Hemingway
A lot of issues in workplace leadership can be resolved by simply communicating. This means having an open channel between both sides. Make sure that your employees have a voice. Being able to ask questions, express concerns, and give input can go a long way. Instead of "me and them," it should be "us." It's all about being part of a team.
As a leader, make sure that company goals are well-known. Make people feel that they are part of something rather than just taking orders. Delegate tasks that are meaningful, within the employee's capabilities, and with concise expectations.
Businesses are essentially groups of human beings. When they communicate well, when they feel valued, and when they share a common goal, they succeed.
Cause 2: Zero Planning for Economic Downturn
Now it's time to look at the external threats. The beginning of this current decade was still heavily characterized by the worst financial crisis since The Great Depression. In 2008, about 2.6 million Americans lost their jobs. Between that year and 2010, the recession put the last nail in the coffins of 170,000 small businesses.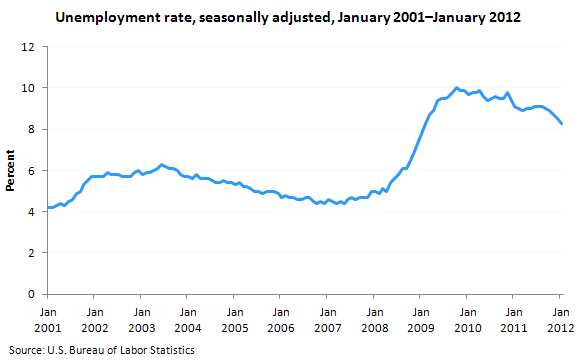 Today there are numerous articles and documentaries on how we should have known that disaster was on its way. Hindsight is always 20/20.
Nonetheless, you don't need a Ph.D. in economics to know that there will be ebbs and flows. The question is not "if" there will be another recession. It's just "when."
Not having a plan for periods of economic downturn is as reckless as buying waterfront property without flood insurance. You literally cannot afford to be unprepared for a financial crisis. Although the next one might not be as big as the infamous Great Recession, we are still due for another downturn and then another after that. It's just how the cycle works.
Solution: Batten Down the Hatches
Just the idea of running a business through an economic downturn can induce a headache. There's nothing pleasant about crunching numbers and being forced to downsize. What's worse is that these sacrifices are not enough to guarantee survival. Plus, survival is not enough to guarantee a full recovery.
"Well, that's just part of going through a recession, isn't it?"
Not quite.
All you need is a client that pays well, on time, and who is always in need of your products or services. Although this may sound like finding the goose that lays golden eggs, it's not really that far-fetched.
You probably have a group of core clients and customers that you already work with. You've known them for years, they're on the top of your list when looking for testimonials, and overall, it's a mutually beneficial symbiosis.
During a recession these sources of revenue, no matter how reliable before, could still go under like many other companies, clients, or buyers.
So what's the next best thing to that goose? It's the United States federal government. During hard times, this comes in the form of stimulus packages. When a downturn occurs, the government will spend more money to get the economy going again. In theory, this creates more jobs, thus causing a ripple effect.
Still, there doesn't have to be an economic disaster for the government to offer opportunities. You can start right now. Once you get your first contract, you become a trusted vendor and many more opportunities will open up after that. Through good and bad, you'll always have this lifeline. Think of government contracting as an insurance policy for revenue.
If your company does become well-versed in the bidding process, contracting could turn into a significant source of income. You might not even have to go through downsizing and the other unpleasant processes that occur during recessions.
Don't wait for the next recession. The best time to start contracting is now.
Cause 3: No Growth
Your company has a great culture. People get along, it's a pleasant place to work, and in general, everyone is on the "same page." You couldn't imagine working with a team that's so talented and collaborates so well together.
There's just one twist…no one ever stays.
Naturally, a company has to grow. As the cost of commodities goes up, so does the cost of living, and maintaining a business. Inflation is a default. Staying ahead of competitors and maintaining employee incentives are another can of worms.
Competitors, in the basic sense, are businesses that fight over shares of the same market. In emerging markets, these shares are always changing. It's easier to get back ahead while there is a constant flow of new, potential customers. As a market matures however, those numbers become more stagnant. At this point, it becomes difficult to bounce back. You're now left to convert other people's clients and customers. When this happens, your business's growth becomes limited.
"That's not good, but how does this relate to turnover?"
An employee's potential career growth is correlated to where they work. A company that's constantly growing will have more and more opportunities opening up from within. Workplace atmosphere is important, but people clock-in everyday to make a living. They want a career path that keeps progressing. Without growth, your employees are without incentives. Without incentives, they'll seek greener pastures: your competitors.
Solution: Employ a Method of Expansion with an Optimal ROI
There's the age-old saying of, "It takes money to make money." Expanding your business is an investment all on its own. Here are just a few of your traditional options along with their approximate costs and risks.
Trade Shows
Benefits
Networking with related industries
Educational seminars and events
Getting an eye on the competition
Cost
Potential to be an excess of $20,000 for just one show
Effective Marketing
Benefits
Getting your message across a variety of mediums (print, radio, internet, television, etc.)
Reaching a massive audience
Helps build your brand
Cost
Benefits
Gain an increased share of the market
Potentially offer a greater variety of goods and services
Combining skill sets and knowledge not previously shared
Cost
Overall strenuous process, and bankruptcy in some cases
Benefits
Diversifying your company's income sources
Directly expanding your network with other businesses
Work, payments, and project management are handled professionally
Cost
Learning new methods and regulations for commercial work can be time consuming as well as financially draining
Benefits
Highly accountable and reliable source of payment
Constantly in need of work
Prefers to develop ongoing work relationships with contractors
Cost
Complex registration process and error can result in fines
Looking at the list above, which method of growth is the easiest on your wallet and time? All the examples provided have been used by many businesses, but some cost tens of thousands of dollars, put you at risk for bankruptcy, or require extensive training for your employees.
When it comes to working with the government, the biggest risk is making an error in your SAM registration. This can easily be avoided by having a third party firm handle the process. After that, the risk is simply not winning a contract.
Also, as a government contractor, you wouldn't have to make any major changes to your modus operandi. Opportunities are available for almost every tangible service or product you could imagine.
Who do you think provides office supplies for NASA? Where does the United States Army Band get their instruments? How are the lawns in front of government buildings kept so tidy? There's something out there for almost every business. It's just a matter of taking the time to search for these opportunities.
Planning for Retirement
Being able to handle these obstacles will allow you to set-up long term plans for your company. As a business owner yourself, one of the plans you need to put together is your exit strategy.
By default, you should already have some form of an emergency exit strategy. This would be for circumstances in which you were struck with a sudden illness, disability, or death. After all, you want to make sure the welfare of your employees, entity, and family is taken care of in such situations.
A retirement exit strategy is the happy ending to your role as a business owner. It's about concluding your career or tenure at a company on a high note. You also want to make sure that your business is appealing to potential buyers or, it's in an optimal condition for an heir.
Here are some things to consider when developing an exit strategy:
Forming a Partnership

– While you're preparing for retirement, bring in a partner for a smoother transition. This will spare you plenty of hassle when you go through the process of leaving the company. Plus, it will also serve as a type of apprenticeship for the next-in-line.
Finding a Stable Source of Revenue

– This is a base you want to cover before you retire. Even with plenty of training and experience, the transference of ownership could come with a few bumps in the road. Securing a stable source of revenue will cushion your company throughout these periods. As mentioned before, the U.S. government is not only a client that always needs work to be done, but it's also recession proof.
Subbing Work and Downsizing

– It took many years to get where you are and many years to be able to handle the amount of work you're taking on right now. To make it easier on whoever buys your company or whoever inherits it, lighten the load.
You can do this by simply downsizing the business. The next owner can still have the option of taking on the same workload if he or she chooses subcontract the work. To be able to do this with the federal government, you have to develop a long work relationship with a good record of past performance. Systems such as the Contractor Performance Assessment Report System (CPARS) and Past Performance Information Retrieval System (PPIRS) are dedicated for keeping track of this date.
A Valuable Asset
There are many routes you can take when avoiding pitfalls, steering your business towards prosperity, and planning ahead for retirement. Government contracting is a great tool for achieving success in all three of these areas.
In total, the U.S. federal government is a resource that spends about $507 billion per year in contracts. If you're a small business, you shouldn't feel that this type of work is out of your grasp. In fact, about 23% of all these opportunities are exclusively available to smaller entities. This equals to approximately $116 billion per year. Within this delegated amount, many contracts are given solely to businesses that fit certain criteria called "set-asides." Here are the total amounts awarded to several set-aside categories in 2016:
8(a)- $16,984,332,434.61
Veteran Owned Small Businesses (VETBIZ) - $21,963,149,580.79
HubZone - $6,860,654,177.32
Women Owned Small Businesses(WOSB) - $8,990,307,336.92
No matter what product or service you offer, a resource that deters business failure is out there. The potential for growth is out there. A way to pave the road for your retirement is out there. It all depends how much time, effort, and initiate you put towards becoming a contractor for the U.S. federal government. This is one potential asset that you cannot ignore.