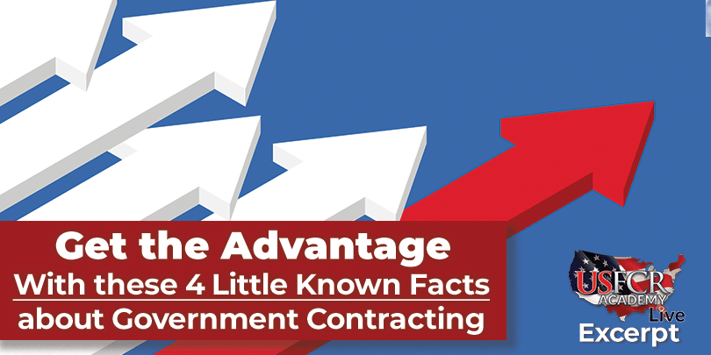 Do you know the best way to find your target agency? Want to know why some of your past performance is invisible to contracting officers? Learn the answers to four little known facts in this USFCR Academy Live excerpt.
Watch Now
The Points
USASpending.gov can help you target the agency that purchases the most from your industry.
Contact the end-user to get the inside scoop on who might be using your product or service. Listen to more about how you can use the end-user in government contracting to your advantage.
CPARS is not required for Simplified Acquisition Procedure (SAP) contracts, but if you would like your SAP past performance to appear in CPARS, you should request it in writing to the contracting officer.
Subcontracting on federal contracts counts as past performance.
USFCR Academy Live
USFCR Academy Live is a social networking group for government contractors This Facebook group allows people who are winning government contracts to interact with one another, learn the best ways to succeed with government contracts and connect with the world's largest and most trusted third-party registration firm, US Federal Contractor Registration.
Stay Current on Government Contracting
For more videos, click the "Videos" tag below. To get the latest government contracting updates, subscribe to the USFCR blog.
You can also check out this video along with others produced by USFCR on our official YouTube channel.