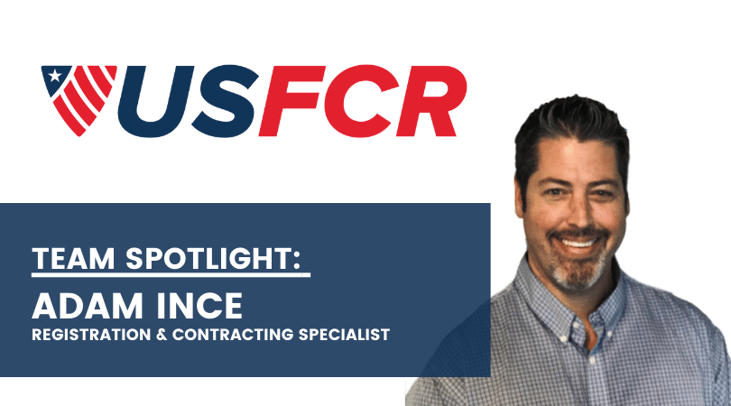 Adam Ince joined the USFCR family in 2021. Since then he has become USFCR's Registration & Contracting Specialist Rookie of the Year and the #1 in Business Development. His clients can count on his reliability and determination to see everyone he works with succeed.
At US Federal Contractor Registration (USFCR), Adam's job as a Registration & Contracting Specialist is to bridge the gap between businesses and the federal government. Adam assesses businesses, their objectives, and connects them to the right USFCR resources for reaching those objectives. This can range from various set-aside registrations, USFCR Bid Training, and the Advanced Procurement Portal (APP).
Prior to working at USFCR, Adam managed and owned gyms as a personal trainer for over 20 years. As a personal trainer and business owner, he thrived in making personal connections with his clients, helping them to develop goals and sustain them.
Adam originally hails from Stillwater, Oklahoma. There he met his wife, whom he has been with for 11 years, but has been married to for 8 years. He, his wife, and two children now enjoy the beach life in Florida and make a point of going to the beach or pool at least once a week.
Adam was first introduced to USFCR through Peter LaNore, a Senior Registration & Contracting Specialist. Peter was impressed by Adam's affability, dependability, and motivation.
Adam now uses those skills to help his clients succeed, not just in the federal marketplace but in all facets of their business.
As a Registration & Contracting Specialist, Adam Ince specializes in:
Simplified Acquisition Procedures
Federal Startups
Small Business Set-Asides


HUBZone
8(a) Business Development Program
Service-Disabled/Veteran-Owned Small Businesses (SD/VOSB)
Economically-Disadvantaged/Women-Owned Small Businesses (ED/WOSB)
Adam helps USFCR's clients secure the most infallible investment — in themselves and in their business.
What People are Saying about Adam
"As a Navy veteran I've always wanted...across USFCR while trying to get registered with the government to be able to bid on contracts. Adam Ince was my contact at USFCR and meeting him has changed my life. I have made contacts through...you have any doubts if USFCR is worth the money. let me assure you it is!!! I am sooo grateful to Adam and USFCR. Thank you so much"
- Christina W., Cruz Healthcare Staffing LLC
About
Registration & Contracting Specialists