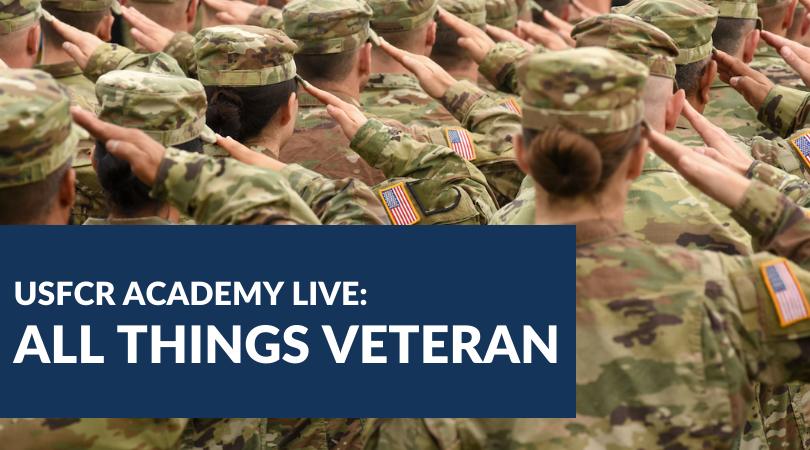 November 11th is Veterans Day. In honor of this, we are dedicating this week's USFCR Academy Live to celebrate our nation's veterans and focusing on how we can assist them in flourishing within federal contracting.
Where to watch: USFCR Academy Live Facebook Group
When to watch: 11/13/19 @ 2 pm ET
Get up to speed and ready for this week's episode with this blog post.
Contract with the VA?
When working with the Veterans Affairs, a vendor will need to register online with the FSC E-invoice Program in order to submit electronic invoices. No paper, mailed, scanned documents, or emailed invoices will be accepted.
Qualifications for VetBiz:
Be a small business
Be 51% owned by a veteran who was discharged under honorable circumstances.
Must have a minimum of one day active duty.
The business must be in good standing with the secretary of state.
Veteran in charge of daily operations and make long term business decisions.
Veteran holds the highest officer position.
Veteran holds the license necessary to operate the business
Owner must be a U.S. citizen (born or naturalized).
Difference Between VetBiz and SDVOSB
The only difference between the VetBiz and the SDVOSB registration is that to be designated service-disabled, the vendor must receive documentation from a VA hospital doctor that has determined they have a disability from service.
SAM.gov will list a vendor as service disable or veteran owned if the vendor has identified as such through self-certification or certification. The only place to confirm SD/VOSB certification is with VetBiz's Advanced Search Form.
Back to Basics
As a veteran, you have some advantages when submitting proposals with the VA through the "Vets First Verification Program." This program is run by the Office of Small and Disadvantaged Business Utilization (OSDBU) and provides resources, support, and gives SDVOSB and VOSB priority when bidding with the VA.