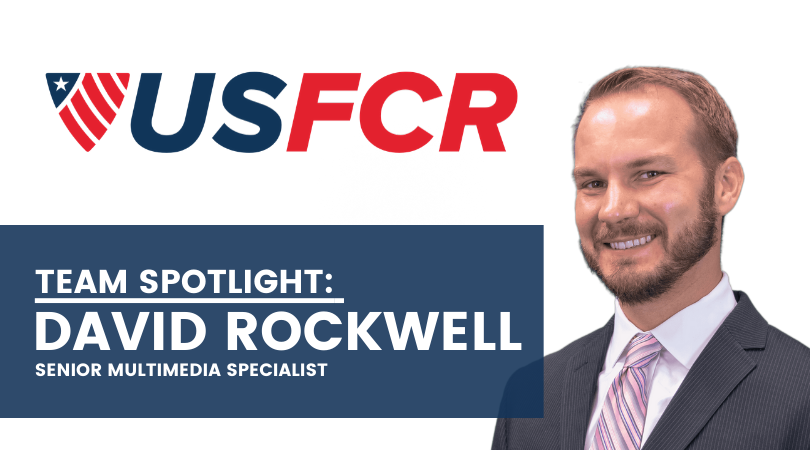 Since 2017, David Rockwell has translated complex concepts into easy-to-understand visual stories. As Senior Multimedia Specialist, he helps educate staff across departments and deliver US Federal Contractor Registration (USFCR) clients a consistent message.
At USFCR David Rockwell's primary role is in video production. He oversees all of the company's video content from the USFCR Academy, YouTube channel, and company information videos. He also works as the host and writer of "The Government Buys...a Podcast."
Prior to working at USFCR, David worked as a closed captioning coordinator, marketing director, production assistant, and subcontractor for a post-hurricane clean up.
As a Senior Multimedia Specialist, David Rockwell specializes in:
Visual Storytelling
Project and Campaign Planning
Video Distribution Optimization
Government Contracting
Team Collaboration
David Rockwell on the USFCR Blog
David Rockwell has written numerous blog posts for USFCR. However, his main contribution, aside from the video content featured in the majority of the posts, is his work on "The Government Buys...a Podcast" (TGBAP).
TGBAP is a podcast centered on helping businesses navigate their way through the federal marketplace. Every episode is centered around a specific government contracting topic. On the podcast, David has a variety of guests featuring procurement specialists from USFCR staff members to others in the industry.
Every episode of TGBAP can be found on the USFCR blog. To check out the full list of episodes you can visit the podcast topic. For all video content, you can visit the the videos topic.
About USFCR