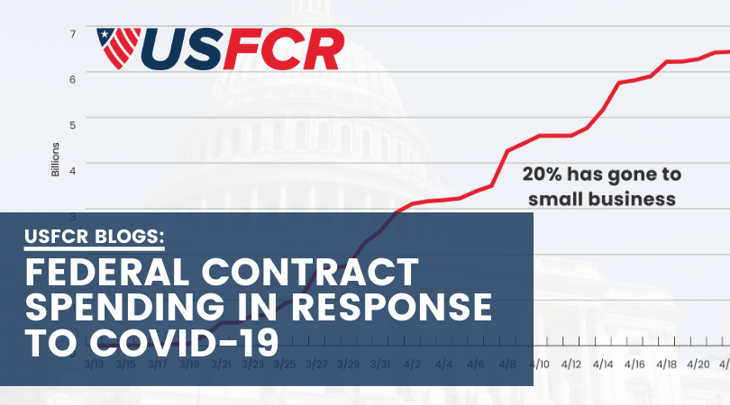 US Federal Contractor Registration (USFCR) takes great pride in the contribution of federal contractors to the current crisis in the United States and around the world. In our ten years of service at USFCR, we've seen many disaster relief efforts; however, this nationwide response is truly unprecedented.
Over $6 Billion and Counting
The federal government is issuing contracts right now not only to slow the spread of the virus, but also to mitigate their agencies' other contracting efforts.
Since March 2020, the U.S. Government has been keeping track of the Covid-19 2020 response effort and has documented the following results.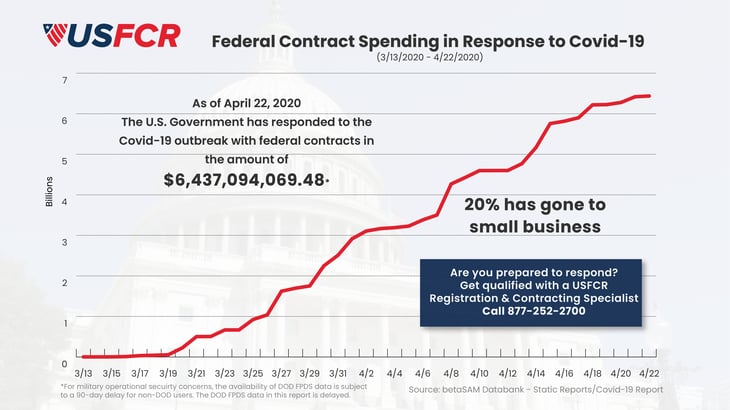 Over $6 billion in contracts have been issued from 31 federal departments, according to the April 22, 2020 Covid-19 Report.
Typically national disasters give preference to businesses in the local area of the situation. Since this crisis is not limited to any local area, small businesses across the country have seen contract opportunities become available.
Small Business Involvement
20% of the contract dollars in response to Covid-19 have gone to small businesses on 2,507 contract actions. That makes the average contract action to small business worth $532,668.
With the Stafford Act currently in place, contracts of that size (under $750,00) are eligible for Simplified Acquisition Procedures. These procedures make federal contracts easier to win and faster to award.
USFCR Registration & Contracting Specialists have seen a tremendous response from businesses calling in to find out how they can contribute.
As the world's largest third-party government registration firm, we are able to get entities set up compliantly in the System for Award Management (SAM). SAM is the baseline requirement for government contractors.
USFCR also provides a service to prepare businesses for simplified acquisition procedures.
Get Qualified
It is not too late for your business to get involved. This relief effort will be going on for a long time. In addition, the government may be the best client to have if the economy sours after the country opens back up.
Additional USFCR Resources
COVID-19 Update - USFCR Continues to Serve Clients USFCR's Company Update
FEMA Contracting Part 1: COVID-19 Learn about the Federal Emergency Management Agency and their efforts to provide relief
Find FEMA Contracts Search tool for current FEMA contracts
Connecting Businesses with the U.S. Government's COVID-19 Relief Efforts USFCR webcast about the relief effort and educational content on the CARES Act for business