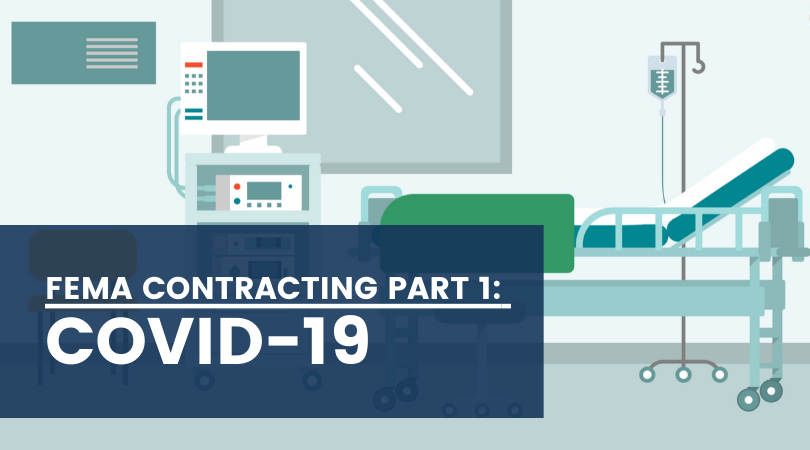 The Federal Emergency Management Agency, also known as FEMA, is tasked with responding to disasters. In this blog post, we're going to cover FEMA COVID-19 contracts.
In this first in a series of US Federal Contractor Registration (USFCR) blog posts you will learn about:
By the end of this blog post, you will get a general idea of the types of opportunities offered by FEMA in related to the pandemic.
You will also learn the fastest and easiest way of getting started in federal contracting.
FEMA's Response to COVID-19
In response to the COVID-19 pandemic, FEMA is coordinating with many federal agencies as well as state, local, and tribal governments.
Here are some of the ways that FEMA is helping:
Coordinating with the Department of Defense (DoD) to fill medical gaps across the country.

Setting conditions for the arrival of hospital ships.
Allocating supplies such as the deployment of Personal Protective Equipment (PPE),

Project Air Bridge


Covering the cost of flying medical suppliers into the U.S. from overseas factories, reducing shipment time from weeks to days.

Supply Chain Stabilization

Preservation - Making the best use of already available critical medical supplies.
Acceleration- Identifying foreign and domestic suppliers, speeding up their deliveries.
Expansion - Enhancing current and new manufacturing capabilities.

Community-Based Testing Sites (CBTS)

Establishing CBTSs in Center for Disease Control (CDC) prioritized sites and transitioning them to state/local operation.

Establishing Alternate Care Sites

Working alongside the Army Corps of Engineers to convert structures into care sites.
FEMA COVID-19 Opportunities
FEMA along with other federal agencies and departments will need goods and services provided by contractors.
Here are the multiple ways that you can find COVID-19 related opportunities.
Powered by the Advanced Procurement Portal (APP).
Syphons contracting opportunities from multiple government procurement sites.
Always up-to-date with the most current opportunities.
FEMA's COVID-19 PPE and Medical Supplies Request for Quotations (RFQ)
Non-medical Support for FEMA
For non-medical support and services please contact the Department of Homeland Security (DHS) Procurement Action Innovative Response team (PAIR).
Vaccines and Medical Device Development relating to SARS-CoV-2 or COVID-19
If your company is currently developing vaccines or diagnostic, therapeutic, and other medical devices related to COVID-19, then you're going to want to contact the U.S. Department of Health and Human Services (HHS)
First you will need to create a TechWatch registration on MedicalCountermeasures.gov
After you register, you will want to fill out a meeting request that fits the product or service you are developing:
How Your Business Can Start Contracting with FEMA
To start contracting with FEMA, no matter your industry or business size, you must have an active registration in the System for Award Management (SAM),
SAM is the database used by government agencies to track their spending, vendor information, and a whole lot more with the development of Beta SAM.
SAM Registration Made Easy
In most disaster scenarios, if you're not registered in SAM, then it's usually too late for your business to provide support and relief.
However, due to the nature of the COVID-19 pandemic, the government is still searching for businesses to aid in their relief efforts.
USFCR is the world's largest and most-trusted government registration firm. Since the implementation of SAM in 2012, we have completed over 100,000 compliant registrations.
For fast and convenient compliance, sign up for our SAM registration service. Learn more about it in the video below.
Watch USFCR SAM Registration Service Video