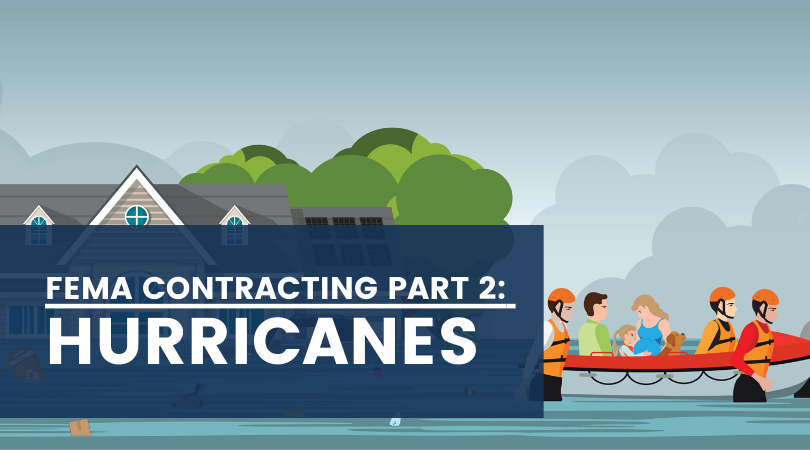 June 1st marks the official beginning of the Atlantic hurricane season. That's why, we've made this second installment in our FEMA contracting series about hurricane-related contracts. In this blog post, you will learn all the basics for getting started just in time for hurricane season.
Here, we're going to cover:
Let's go.
How FEMA Responds to Hurricanes
Most the contracting opportunities will be held on a state level. This includes disaster cleanup, repairs, and so on. This isn't to say that FEMA does not provide assistance in these areas as well.
FEMA's role in a disaster such as a hurricane, is to provide relief when a disaster overwhelms a state or local government's resources.
For FEMA assistance, the governor of the affected state must declare a state of emergency and issue a formal request to the President that FEMA responds.
Here are the several teams that make up FEMA's hurricane response:
National Response Coordination Center (NRCC)
The NRCC is located at FEMA's head quarters in Washington D.C. You can think of them as the "brain" of FEMA as they are in charge of:
Emergency management coordination
Planning
Resource deployment
Collecting information
Searching for anticipated disasters
Disaster Medical Assistance Teams (DMAT)
FEMA's DMAT role is to provide medical care at areas afflicted by disasters. On top of medical assistance, they also play a role in:
Pharmaceutical response
Veterinary medical assistance
Mortuary and forensic services
Urban Search and Rescue (US&R)
US&R performs rescues for victims in confined spaces and structural collapses.
Mobile Emergency Response Support (MERS)
MERS handles communications and communications support in disaster afflicted areas. They make sure that emergency response teams can still communicate with the outside world. MERS is also responsible for the FEMA alerts that you get on your phone.
Contracting Insights
Just from looking at these four different teams, you can gain a lot of insight on what types of industries FEMA works with. This includes, but isn't limited to:
Medical supplies and equipment
Communication technology
Rescue equipment
Logistics
Shelter supplies
Sustenance
So where would you find the actual opportunities for your business?
Researching FEMA Hurricane Opportunities
Out of all the natural disasters, hurricanes are the most predicable. Hurricane season happens at the same time every year, and systems can be detected almost a week before they make landfall.
In general, the same products and services will be purchased again and again. You can find research FEMA hurricane opportunities with three vehicles:
The Acquisition Planning Forecast System (upcoming opportunities)
Beta SAM (past opportunities)
USFCR's FEMA Contract Search Page (current opportunities)
Acquisition Planning Forecast System
With reoccurring needs, the Department of Homeland Security (DHS) has an Acquisition Planning Forecast System (AFPS). AFPS is a small business portal for anticipated actions valued over $250,000.
On this portal there is a separate section they have a specific section for FEMA contracts. You can also search by a specific small business set-aside which includes:
8(a) Business Development Program
Economically-Disadvantaged Women-Owned Small Business
Women-Owned Small Business
Service-Disabled Veteran-Owned Small Business
Veteran-Owned Small Business
Historically Underutilized Business Zone (HUBZone)
When you apply your filters, you will find results in this format:
From there, you can start getting your foot in the door such as emailing the point of contact, and even getting an online capabilities statement into their hands.
Beta SAM
As mentioned earlier, APFS is for contracts valued at over $250,000. So where can you find opportunities?
Beta SAM is a great resource finding both current and past contract valued at $25,000 or above. By finding what was previously awarded and to what companies, you can find out which opportunities will come around this hurricane season.
For help with Beta SAM research, check out this guide.
USFCR's FEMA Contract Search Page
To provide quick access to current FEMA opportunities, US Federal Contractor Registration (USFCR) has its own FEMA search page.
The page, which is powered by the Advanced Procurement Portal (APP) has all of the currently available FEMA contracts are posted live. From there, you can click on an opportunity and find:
Important dates
Contact information
Notice type
Place of performance
NAICS
Set-Aside
Description
Example: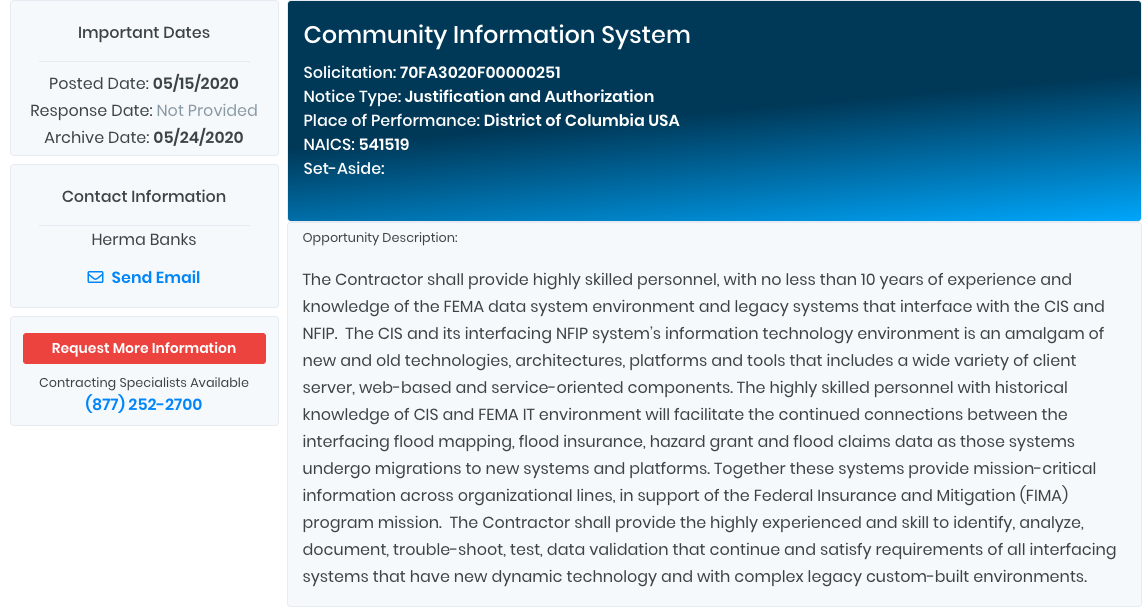 Disaster Set-Asides
When the federal government sets aside a contract, it means that only certain businesses can bid on it. Usually this is in the case of businesses owned by veterans, women, or individuals who have been socially and economically disadvantaged.
Sometimes it's purely small business. Small business size standards are determined by the Small Business Administration (SBA) and they relate to your industry along with your yearly revenue or employee count.
There are several set-aside opportunities that arise after a hurricane has struck.
Local Set-Asides
During times of disaster, especially for hurricanes, there may be several opportunities for small businesses located in the state that was stuck by the disaster. Local set-asides are one of the main reasons why FEMA contracts can be a great stepping stone for your business into the federal marketplace.
Disaster Area HUBZones
Rebuilding a disaster stricken also means helping strengthen the local economy. When a census tract or a county gets declared by the President as a disaster area.
HUBZone stands for Historically Underutilized Business Zone. It's a set-aside not based on identity, but based on the geographic location of a business. To qualify for a disaster area HUBZone you must:
Have at least 35% of your employees reside in the area
Be at least 51% owned by U.S. citizens
Meet the SBA small business requirements
Besides exclusive opportunities, HUBZone businesses also have the 10% price evaluation preference. This means that if an opportunity comes down to the lowest bidder, a HUBZone can bid a price that's 10% higher than the lowest bid, but will be considered as the lowest bid.
The disaster area will remain a HUBZone for 5 years starting from the point of declaration.
To get registered in a HUBZone easily, you can use US Federal Contractor Registration's HUBZone certification service.
Major Considerations BEFORE Working with FEMA
There are two important factors that you, as a business need to take into account before you start working with FEMA.
Early registration in the System for Award Management (SAM)
An honest evaluation of your capabilities
Early Registration in SAM
Registration in SAM is the first requirement for any business seeking to work with the federal, government. However, one of the biggest errors that prospective FEMA contractors make is that they register too late.
As a general rule of thumb, if there's an approaching hurricane that's already in the news…it's too late to get registered to help. That's because, by the time your registration is processed and completed, most of the contracts will already be awarded.
Again, hurricane season never comes as a surprise. The best thing that you can do as a business is to get registered in SAM before the season or early on.
For a quick and convenient registration in SAM, you can use a third-party such as USFCR. USFCR's SAM Registration service ensures that your business is in compliance for federal contracting. Since the introduction of SAM in 2012, we have processed over 100,000 registrations.
An Honest Evaluation of Your Capabilities
This is another crucial factor that you must consider before working as a FEMA contractor. About every hurricane season, there's a news story about how a government contractor failed to deliver a much needed product or service.
When you work as a contractor with FEMA, be heavily considerate of your business's capabilities. If you're a one person operation, could you really provide hundreds of thousands of meals and other necessary supplies?
This is one contracting situation where you do not want to bite off more than you can chew. Although getting your first contract might sound like an exciting event, it would be better off to wait for a smaller job if your businesses is capable.
What matters most is the safety of the people that you're trying to help. Far too often, contractors will get in over their head and put others at risk because of negligence in evaluating their capabilities.
Finding Out if You Qualify
Hurricane season will be here before you know it and as mentioned earlier, you want to be in the federal marketplace before you hear news of a tropical system developing.
If you're not sure if you qualify for government contracting, and you want expert insight, a USFCR Registration and Contracting Specialist is here to help at no cost.