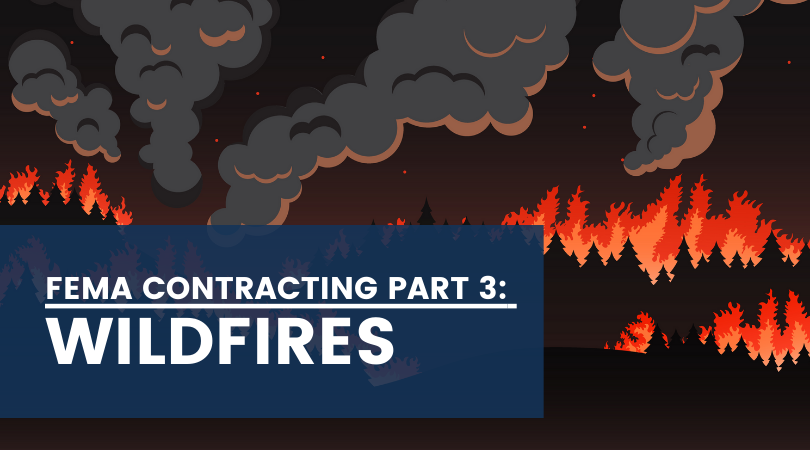 In the United States, wildfire season tends to peak between June and August, however, federal agencies prepare for them year-round. Part 1 of our FEMA contracting series focused on COVID-19 and Part 2 focused on Hurricanes. In this installment we're going to cover how FEMA responds to wildfires.
Here, you will learn:
Let's begin.
How FEMA Responds to Wildfires
To learn about how FEMA responds to wildfires, let's take a glimpse into how the agency responded to the 2018 California Wildfires - the deadliest and most destructive wildfire ever recorded in that state.
As with all natural disasters, most of the responsibility for mitigation and recovery falls upon local and state governments. FEMA is there to provide more of a supportive role to these efforts.
Here are some ways that FEMA helped out during the 2018 California Wildfires:
Grants for temporary housing and home repairs
Grants for food
Assisting residents in filing insurance claims
Coordinating efforts with other federal agencies
When compared to COVID-19 and especially hurricanes, it seems like the agency took a smaller role - which is correct.
When Hurricane Maria struck Puerto Rico, the island's infrastructure and ability to respond was completely decimated in a short timespan. Local governments were limited in their capability to respond.
Due to the all encompassing severity of the situation, FEMA which is intended to be used as a "back-up" resource had to serve as the primary responder.
With the 2018 California Wildfires, FEMA took more of a backseat role as the the state still had some resources available to fight and mitigate the disaster.
What about the federal contracts that went toward actually fighting the fire and other on-the-ground efforts?
Other Agencies that Respond to Wildfires
The majority of wildfire-related contracts that you are going to find are going to be federal agencies outside of FEMA. Here are the five major agencies that you should research if you're looking to provide assistance with wildfires:
U.S. Department of Agriculture's Forest Service
Department of the Interiors Bureau of Indian Affairs
Bureau of Land Management
Fish and Wildlife Service
National Park Service
The types of opportunities vary as well. Not all wildfire contracts will have you providing feet-on-the-ground to keep the flames at bay. There are important operations that take place before and after the disaster as well.
Here are the three phases of wildfire-related operations conducted by the federal government.
Prevention and Mitigation
During the Fire
Aftermath
Prevention and Mitigation
There are various federal programs dedicated to preventing wildfires in the first place with loads of opportunities for contractors. Contracting opportunities for wildfire prevention and mitigation can include:
Fuel reduction
Pre-fire community protection planning
Hazard mitigation
Equipment
Personnel training
During the Fire
When it comes to wildfires, the federal government takes prime responsibility for ones that occur on federal lands. The Department of Interior for example, manages the wildfire response for managing the response for over 400 million acres which includes:
National parks
Wildlife refuges
Other public lands
Indian reservations
The U.S. Department of Agriculture manages the wildfire response for over 193 million acres of National Forests. States are responsible for managing wildfires on nonfederal lands. However, sometimes responses may be managed jointly in areas where federal lands border nonfederal lands.
FEMA does have an active role in fire repression through Fire Management Assistance Grants (FMAG) which help cover the cost of state resources for fighting fires.
Aftermath
After the fire, there are two main ways that the federal government provides assistance:
Ecological recovery
Economic recovery
Some of the contracting opportunities that revolve around ecological recovery can include:
Sowing grass
Planting trees
Erosion reduction
Mitigating landslide risks
Reduction of impacts on water resources
Removing dead or damaged trees
Economic recovery from the federal government is going to be handled by FEMA through the grants and other assistance programs mentioned earlier.
Finding Wildfire Relief Contracts
There are numerous ways that you can go about finding wildfire relief contracts. The main avenues will be:
VIPR I-BPAs
Beta SAM
The Advanced Procurement Portal (APP)
VIPR I-BPAs
As mentioned earlier, forest fires are a year-round problem. With that in mind, agencies such as the U.S. Forest Service (USFS) try to make sure that they have vendors already lined up before a disaster strikes.
To do that, they have a web application called VIPR or Virtual Incident PRocurement which manages I-BPAs or "Incident Blanked Purchase Agreements."
There's a wide range of products and services that the USFS purchases through VIPR ranging from chainsaw repair, construction equipment, and clerical support.
To get the full range of what's purchased through VIPR and to get a better understanding of this system, check out the USFCR guide to VIPR.
Beta SAM
Beta SAM is not only the replacement for the System for Award Management. It also fulfills the function of FedBizOpps.gov where opportunities valued at $25,000 and over are posted.
On Beta SAM, you can sort through opportunities by the specific agencies mentioned earlier in this post.
To learn how to use Beta SAM, read Beta SAM - Contract Opportunities Guide for Businesses 2020.
The Advanced Procurement Portal (APP)
Developed by USFCR, APP functions as the industry's most advanced solution for obtaining government procurement data. In short, it simplifies the contract search process through a user-friendly interface. Plus, it has multiple helpful features such as getting opportunity notifications emailed to you the moment they get posted.
To get a full run through of APP, you can sign up here for an on demand webinar hosted by the USFCR Academy.
Finding Out if You Qualify for Government Contracting
Want to know if there's a market for your business in wildfire response or government contracting in general?
USFCR can help.
Since 2010, we've been helping businesses of all sizes and industries get their start in government contracting. Our team of Registration and Contracting Specialists can provide you with expert insight on opportunities awaiting for businesses just like yours in the federal marketplace at no cost.