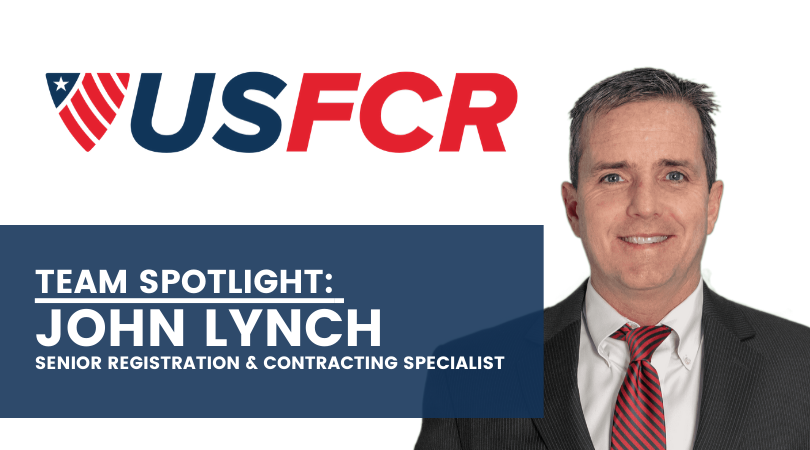 Since 2009, John Lynch has been helping contractors with his knowledge of government data systems. He also helps them understand concepts such as simplified acquisition contracts, sealed bidding, micro-purchases, and negotiated purchases.

At US Federal Contractor Registration (USFCR), John's job as a Senior Registration & Contracting Specialist is to bridge the gap between businesses and the federal government. John assesses businesses, their objectives, and connects them to the right USFCR resources for reaching those objectives. This can range from various set-aside registrations, USFCR Academy, and the Advanced Procurement Portal (APP).
As a Senior Registration & Contracting Specialist, John Lynch specializes in:
Simplified Acquisition Contracts
Micro-purchases
Small Business Set-Asides

HUBZone
8(a) Business Development Program
Service-Disabled/Veteran-Owned Small Businesses (SD/VOSB)
Economically-Disadvantaged/Women-Owned Small Businesses (ED/WOSB)
John brings USFCR clients his expertise in finding the right opportunities through the APP.
John Lynch Testimonials
"John Lynch and company take care of all my needs. When I call in they take the time to listen to what I have to say and follow through with what they said they would do. One of the best choices I've made so far. US Federal Contractor Registration is always willing to help. John Lynch goes above and beyond to support me, and I am 100 percent satisfied with his service."
- Ty F.
---
"Elizabeth, Anna and John thank you so much for helping me on the journey of government contracting. You have really been helpful with the registration process, who I need to contact and how to win a bid. The registration process was so easy to understand and Elizabeth held my hand the entire way. Anna calls weekly to tell me about the live webinars and listens to all my questions with a beautiful smile behind the phone, well John let's just say he blew my socks off with the knowledge he has about the company. I love this company. Thank you!"
- Nurse G.

---
"I signed on with John Lynch in 2017. John (and his team) successfully got my small business registered in SAM & HUBZone Certified before year end 2017. Based on his 2017 performance, I "doubled down" and bought additional USFCR services from John in early 2018, confident that I now have the guidance + support necessary to pursue Federal Contracts with success."
- Tim R.
About
Registration & Contracting Specialists