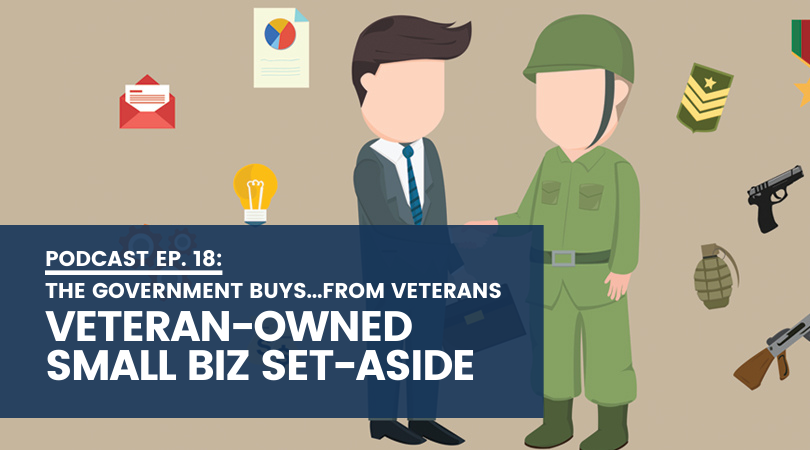 Set asides for Veteran-Owned Small Businesses and Service Disabled Veteran-Owned Small Businesses can provide an advantage to veterans in the competitive federal contracting marketplace. Stand behind those who have stood behind us all on this episode of The Government Buys a Podcast.
Listen to the Episode
Homework:
After listening to the episode. Complete the homework to take the right steps forward as a government contractor.
The homework this week is to make sure your key personnel has their business resume up to date and ready to submit.
SD/VOSB Set-Aside Advantage
There are several ways that the SDVOSB and VOSB set-asides provide small businesses with an advantage. The first is through the limiting of competition. Some contracts that you might find on the Advanced Procurement Portal (APP) or Beta SAM will have the VOSB or SDVOSB designation.
This means that only businesses with these set-asides are legally allowed to bid on this opportunity. Because of this, the competition for the contract becomes greatly reduced.
Another advantage fo the SD/VOSB set-asides are the added incentives that agencies and prime contractors have to work with them. Government agencies must reach a quota for specific types of small businesses for their procurement spending. This incentive also gets passed down to prime contractors working on larger scale jobs who are required to subcontract some of the work to small businesses.
Stay Current on Government Contracting
For more podcast episodes, click the "Podcast" tag below. To get the latest government contracting updates, subscribe to the USFCR blog. "The Government Buys...a Podcast" can be found on Spotify, iTunes, Google Play, and Tune-in.