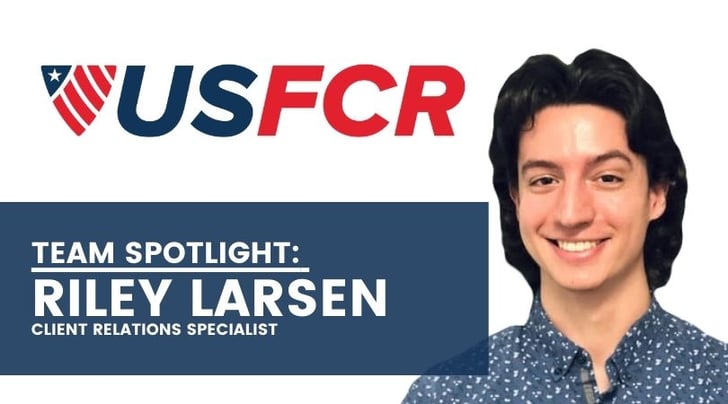 Since 2020, Riley Larsen has assisted US Federal Contractor Registration (USFCR) clients in reconnecting with their SAM registration and remaining compliant with federal contracting as a Client Relations Specialist.

SAM is the first requirement for businesses seeking to enter the federal marketplace. USFCR's Special Services Case Managers provide assistance and support for registrations.
As a Special Services Case Manager, Riley specializes in the following registrations:
System for Award Management (SAM)
Service-Disabled Veteran-Owned Small Business (SDVOSB)
Veteran-Owned Small Business (VOSB)
Economically Disadvantaged Women-Owned Small Business (EDWOSB)
Women-Owned Small Business
8(a) Business Development Program
HUBZone
Wide Area Work Flow (WAWF)
Distribution and Pricing Agreement (DAPA)
Riley Larsen Testimonials
"This is a letter of recommendation for USFCR employee Riley Larsen.
My museum is applying for a grant for LED lighting. One of the requirements for this grant is to become a member of SAM.Gov.
While initially going through the process and completing phase one, I was contacted by Riley Larsen as my case manager. As we were visiting on the phone, I asked when the process was to be completed, as my grant was scheduled to be sent in a week later. Larsen explained to me that it would be 30 days before the museum would be finally approved.
I became very upset. I was carefully trying to fill out all the paperwork, and the thought of losing this much-needed grant on late paperwork really pushed my buttons. I started yelling and whining.
Through all this, Larsen kept his cool. I finally calmed down and asked him if I could get a letter stating that we were in the process of getting to be a full member.
Larsen, immediately send me an e-mail on my request. I sent it to the grant organization, and later that day, they accepted his letter as complying with their requirements.
I really appreciate Larsen going the extra mile for me."
---
"Riley is the man! Btw: both you and Gary have been awesome in helping us in our time of need to get things fixed "
- K. Cole, Tunnel VUE
---
About
USFCR