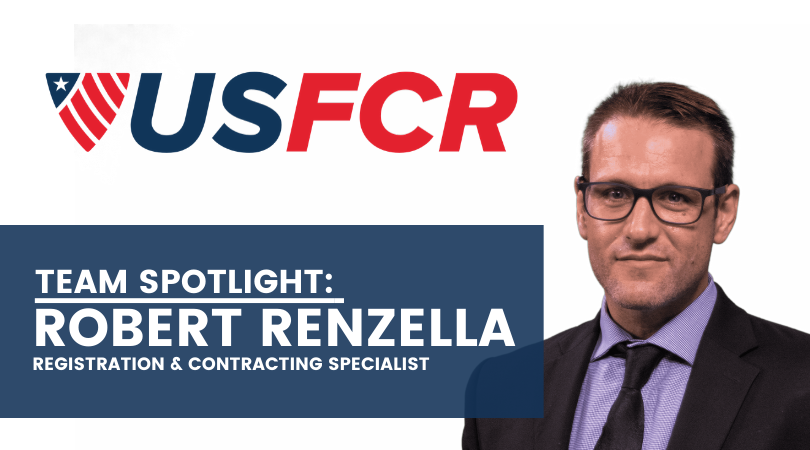 Since 2014, Robert Renzella has been helping businesses develop long-term, sustainable relationships with government agencies. He also specializes in helping clients establish a recognizable brand within the federal marketplace. 📆 Schedule a call with Robert.
At US Federal Contractor Registration (USFCR), Robert's job as a Registration & Contracting Specialist is to bridge the gap between businesses and the federal government. Robert assesses businesses, their objectives, and connects them to the right USFCR resources for reaching those objectives. This can range from various set-aside registrations, USFCR Academy, and the Advanced Procurement Portal (APP).
Prior to working at USFCR, Robert developed extensive customer service skills in both the music and hospitality industries.
As a Senior Registration & Contracting Specialist, Robert Renzella specializes in:
Beta SAM
GSA Registrations
Business-to-Government Marketing
Small Business Set-Asides:

8(a) Business Development Program
HUBZone

Service-Disabled/Veteran-Owned Small Businesses (SD/VOSB)

Economically-Disadvantaged/Women-Owned Small Businesses (ED/WOSB)
Robert brings USFCR clients his extensive and diverse background in business management and marketing. He is known for his exceptional ability to train new vendors on learning how government contracting works and leading them to their first contract.
Robert Renzella Testimonials
"I always have a great experience working with Christie Jackson and Robert Renzella. They are very proactive and keep me ahead of schedule to make sure we submitted all information required. I appreciate their prompt responses to emails and any information required."
- Monica L. Gorman Company
---
"I have worked with Robert Renzella of USFCR to get 13 entities registered on SAM.gov. He has been very efficient, cooperative, and prompt during the process."
- Steve C., Senior Vice President, McDougal Property Management, LC

---
"Robert has been a tremendous help. He has gone out of his way to make sure that I am staying on track with this program. I feel every time I'm talking to him that my business can succeed with this. I am very excited to be working with him and what kind of business we can find in the future. Robert is great and I feel lucky ended up with him."
- Tom B.
About
Registration & Contracting Specialists