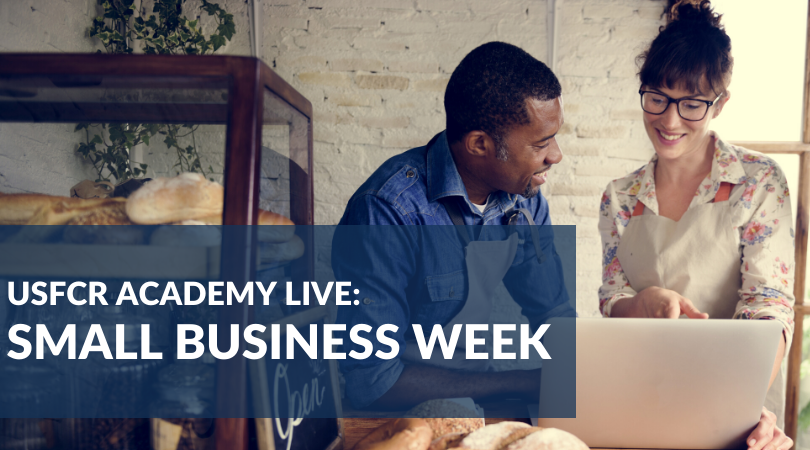 This week's episode of USFCR Academy Live will focus on small businesses. Before a person can contract with the federal government, they must first start a business. This includes selecting the correct entity type, registering properly, and creating an online presence.
Where to watch: USFCR Academy Live Facebook Group
When to watch: 11/20/19 @ 2 pm ET
Four Major Business Entity Types
Before selecting your entity type, please seek legal counsel from an attorney. USFCR cannot advise you on how to structure your business, but we can show you the basic types.
Sole Proprietor: The business is established with just one owner. The owner can choose to name the business in their name or decide to select a DBA (doing business as).


Partnership: The business is established with two or more individuals signing a written agreement to operate a business together. Equity levels are established between partners and each owner has responsibility capital, marketing and some part of operations.


Limited Liability Company (LLC): LLCs can be owned by individuals, trusts, corporations or even other LLCs. This gives the business less liability on its own as it has a diverse ownership structure and can even be owned partly by employees.


Corporation: Corporations are state-chartered the owners have limited liability because the corporation has separate legal standing. The owners are thereby protected from personal legal action, should the business be sued.
After Entity Creation
You need to get registered in the System for Award Management (SAM) . To become registered in SAM, a vendor must first acquire a DUNS number. A DUNS number is a unique nine-digit identifier and is assigned by 3rd party, Dun & Bradstreet. Dun & Bradstreet will provide the DUNS number free of charge to businesses looking to contract or receive grants from the federal government.
On March 15th 2019, the GSA awarded Ernst and Young LLP a $41.75 million contract for entity validation services. This contract essentially will allow Ernst and Young LLP to replace Dun & Bradstreet as the new provider of the unique identifiers which will be known as SAMMI numbers.
SAMMI is an acronym which stands for SAM Managed Identifier. Expect the transition from DUNS numbers to SAMMI to begin sometime in 2020.
Create an Online Presence
When starting a business, a company should be aware of their online presence. Creating a website, online capabilities statement and creating review pages such as Yelp, Google and Facebook will help them to increase SEO (Search engine optimization) and be seen by potential buyers.