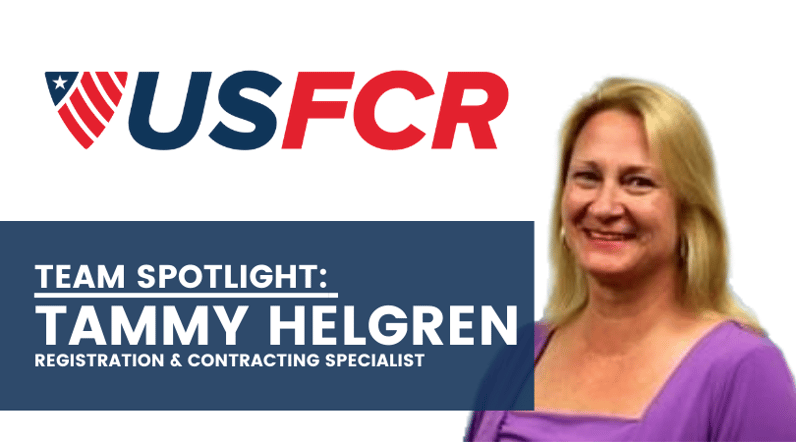 Since 2013, Tammy Helgren has been making her mark on government contracting one business at a time. Driven to help her clients succeed, she wants businesses new to this sector to feel comfortable with the government contracting processes.
At US Federal Contractor Registration (USFCR), Tammy's job as a Registration & Contracting Specialist is to bridge the gap between businesses and the federal government. Tammy assesses businesses, their objectives, and connects them to the right USFCR resources for reaching those objectives. This can range from various set-aside registrations, USFCR Academy, and the Advanced Procurement Portal (APP).
Prior to working as a USFCR Registration & Contracting Specialist, Tammy worked as an ISO 9000 auditor and as a USFCR Case Manager.
As a Registration & Contracting Specialist, Tammy Helgren specializes in:
Simplified Acquisition Procedures
Federal Startups
Small Business Set-Asides


HUBZone
8(a) Business Development Program
Service-Disabled/Veteran-Owned Small Businesses (SD/VOSB)
Economically-Disadvantaged/Women-Owned Small Businesses (ED/WOSB)
Tammy delivers customer service skills to clients that are second to none and brings over 20 years of experience working with businesses across the country.
Tammy Helgren Testimonials
"Tammy on the other hand has been my life line, and has been involved every step of the way in making sure fantastic! Simply put, Tammy and the USFCR support team have been amazing, and I am truly grateful."
- Wardell J.
---
"Melissa Baum and Tammy Helgren were incredible to work with! They were patient, informative, and expressed a genuine concern for my ability to get the required paperwork in time. They followed up in a timely manner for all my questions and needs. I consider myself very lucky to have had their help in this process."
- Nicole B.

---
"Tammy Helgren was so helpful with my registrations, and USFCR is training me to become successful in the federal marketplace."
- Diane P.
About
Registration & Contracting Specialists