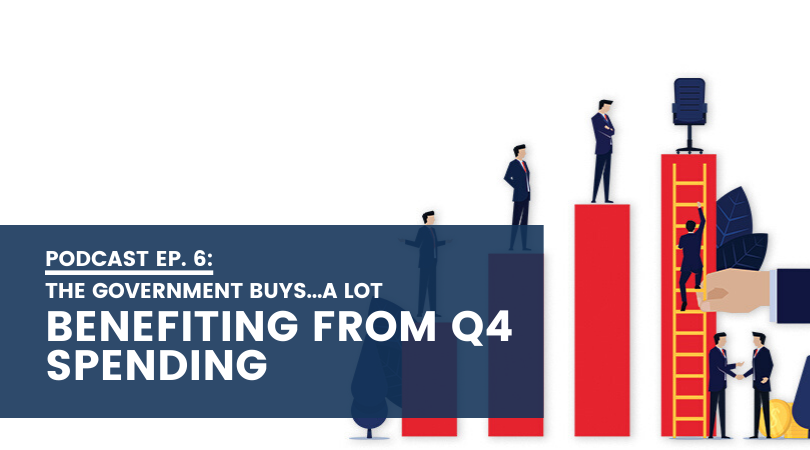 There are a number of reasons why the government spends more in the last quarter of the fiscal year. It is crucial to know when the federal government's fiscal year actually ends and how your business can get a piece of the action. In this podcast episode we look at Fiscal Year 2019, but this information can easily be translated to Fiscal Year 2020 and beyond.
Listen to the Episode
After you finish the episode, check out the helpful links and homework below to get the most out of this installment.
Fun Fact
Spending in 2020 on government contracts could possibly hit $600 billion for the first time. USFCR breaks down this potential spending milestone on an episode of Federal Insider Live.
Helpful Links
Looking to do some advanced market research with an easy-to-use tool? Learn More about the Advanced Procurement Portal.
USASpending.gov is another useful website for market research. Check out the spending report for Fiscal Year 2019.
Get to know the guest on this episode, USFCR Vice President, Matthew Pulver.
Homework
What does spending look like in your industry. Visit USASpending.gov, perform an advanced search with your NAICS code.
Next Episode
We discuss the JEDI and DEOS contracts on "The Government Buys a...Cloud."
About
"The Government Buys...a Podcast" is a conversation about government contracting between laypeople and experts. Spoken at a pace that is entertaining and educational, each week David, Alex, and their guests look at a different product or service that the government buys. The end goal is to help listeners get a better understanding of government contracting.
David and Alex are media producers at the world's largest and most trusted third-party registration firm —US Federal Contractor Registration. Listen to their unique perspective in the show archives or on new episodes every Tuesday. Join the community at thegovernmentbuysapodcast.com or on the following platforms: