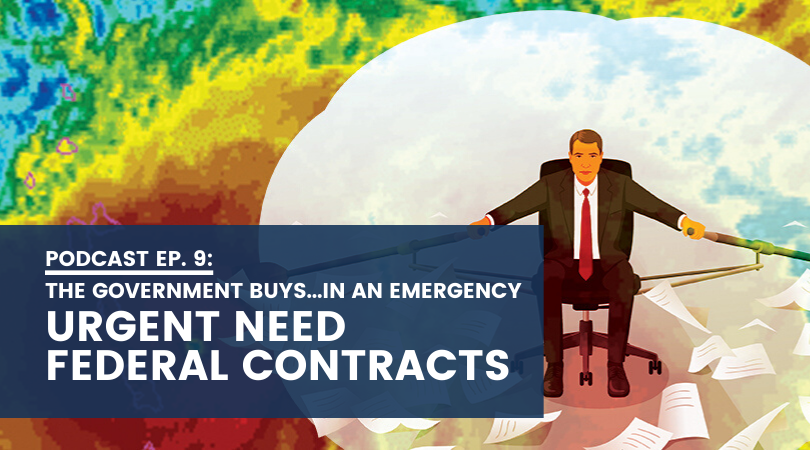 In the old days all government contracting was cumbersome. However, a long, complicated process is not productive when supplies are needed quickly. One instance of the government needing to buy quickly is during an emergency. In this episode of the podcast we explain how the government side-steps a lot of regulation with one simplified set of rules called Simplified Acquisition Procedures.
Listen to the Episode
After you finish the episode, check out the helpful links and homework below to get the most out of this installment.
Fun Fact
USFCR looked at the Simplified Acquisition Procedures and developed the Simplified Acquisition Program in response. This program has been instrumental in helping small businesses connect with the government on quick procurement.
Helpful Links
Get to know this episode's guest, USFCR Senior Acquisition Specialist Peter LaNore.
Homework
We gave three options in today's episode for homework to get your business rolling on SAP.
1: Call Peter
2: Go to the SimplifiedAcquisitionProgram.org and learn more about Simplified Acquisitions
3: Read Part 13 of the Federal Acquisition Regulation
If you actually read (or have read) FAR Part 13, please reach out to us and let's talk. I want you to be a guest on our show.
Next Episode
As FBO becomes one with The System for Award Management we dedicate an episode to these changes. Next week's episode is titled, The Government Gets an Update.
About
"The Government Buys...a Podcast" is a conversation about government contracting between laypeople and experts. Spoken at a pace that is entertaining and educational, each week David, Alex, and their guests look at a different product or service that the government buys. The end goal is to help listeners get a better understanding of government contracting.
David and Alex are media producers at the world's largest and most trusted third-party registration firm —US Federal Contractor Registration. Listen to their unique perspective in the show archives or on new episodes every Tuesday. Join the community at thegovernmentbuysapodcast.com or on the following platforms: