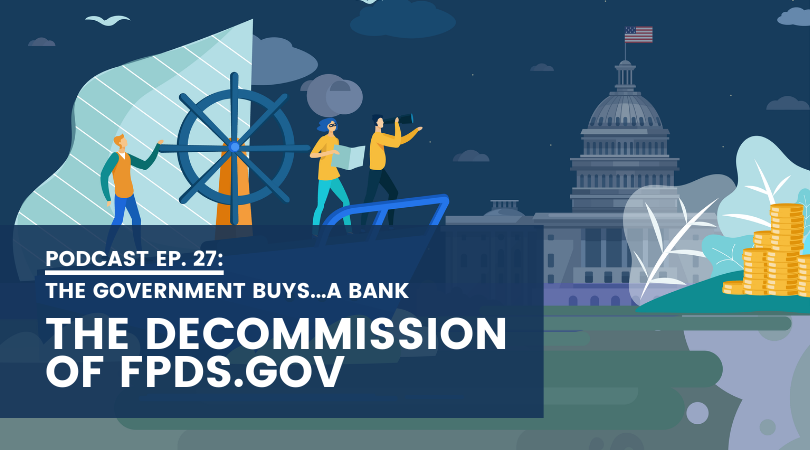 For almost two decades, contracting officers, government contractors and those interested in pursuing government contracts have relied on the Federal Procurement Data System (FPDS) to collect and interpret the information needed to succeed in the federal marketplace. Now that resource is being replaced.
Join podcast host, David Rockwell and returning guest, Alex Siniari, as Dave overcomes his trepidations about losing his beloved FPDS. In today's episode, we learn how to use US Federal Contractor Registration's (USFCR) Advanced Procurement Portal (APP) to stay ahead of the curve in the federal marketplace during these times of change and uncertainty. Learn how your small business can gain an advantage. Make sure to listen to the complete episode for the breakdown of this topic.
Listen to "The Government Buys...a Bank"
Homework:
We make this podcast to help small business owners take the first step in their government contracting journey. We want you to be like Dave. Be unrelenting. Face your fears. Find a solution and while you're at it find a few contracts that you think you could do a great job with as a subcontractor in APP, on FPDS or Beta. Sam.gov. Bring those ideas to USFCR's upcoming webinar about subcontracting and ask us about them.
US Federal Contractor Registration is hosting a webinar highlighting the Best Practices for Subcontracting Thursday, June 11th at 11 AM ET. Sign up for the webinar here to learn more.
Related Episodes
Stay Current on Government Contracting
For more podcast episodes, click the "Podcast" tag below. To get the latest government contracting updates, subscribe to the USFCR blog. "The Government Buys...a Podcast" can be found on Spotify, iTunes, Google Play, and Tune-in.