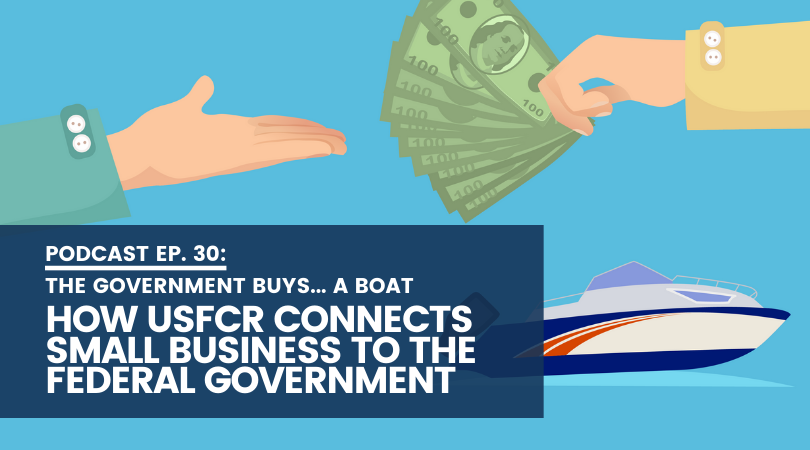 Around 2010, a contracting officer at a military base in Tampa, Florida, unknowingly initiated a major change in the way small businesses win federal contracts. It all started with the purchase of a boat. The short story is that the government's boat purchase illustrated a problem which needed a solution.
One entrepreneur saw this problem and developed the solution. The result was US Federal Contractor Registration (USFCR). USFCR has helped small businesses prepare for government contracts since 2010, a win-win for the public and private sector. Listen to the full story in the podcast below.
Wisdom from Ten Years of Operation
On this episode of The Government Buys... a Podcast, USFCR Founder and President, Eric Knellinger explains why the company was founded, its first ten years of operation and how the small business has become an industry leader for government registrations.
The wisdom in this story is enlightening not only for businesses moving into the federal market, but also for businesses looking to stay the course and reach their ten-year mark with success.
Listen to "The Government Buys... a Boat"
Homework:
Find out how USFCR's Advanced Procurement Portal (APP) can help your business succeed as a government contractor.
One of the ways USFCR has stayed at the forefront of the industry is by keeping clients ahead of the government's technological changes. APP is a shining example of that in action.
Related Episodes
The Government Gets...an Update
Stay Current on Government Contracting
For more podcast episodes, click the "Podcast" tag below. To get the latest government contracting updates, subscribe to the USFCR blog. "The Government Buys...a Podcast" can be found on Spotify, iTunes, Google Play, and Tune-in.