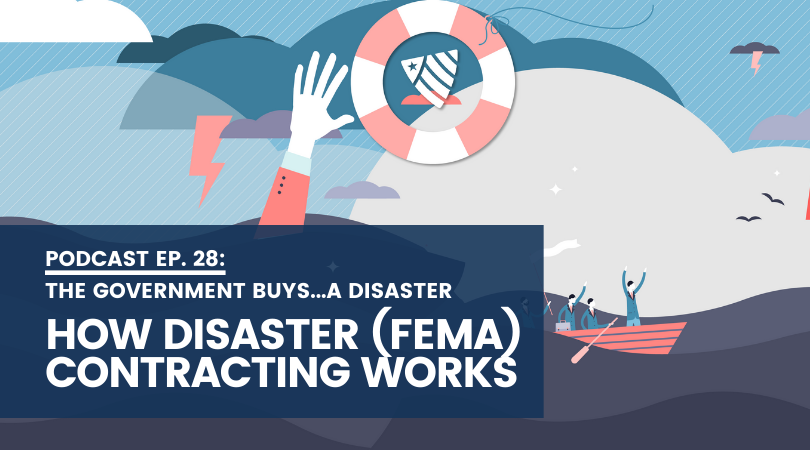 With beginnings in 1979, the Federal Emergency Management Agency (FEMA) has become the go-to source for federal disaster relief. FEMA recognizes the importance of private-sector partnerships to restore communities after disasters and that is where federal contracts come into play. With a little guidance, businesses can provide assistance and win federal contracts.
Continuing from last week's adventure into the Federal Procurement Data System (FPDS), The Government Buys... a Podcast takes a deep dive on some data analytics surrounding three major disasters from the past 40 years.
This analysis shines a light on how businesses have worked with all levels of government in the past to aid in disaster relief and how preparedness and partnership can help them in the future.
If you are registered in the System for Award Management (SAM), you can do business with FEMA. A SAM registration is the only requirement, which can be completed for free on the government site. If you're not, consider the advice from this podcast and then get started with USFCR.
Listen to "The Government Buys...a Disaster"
Homework:
Fill out FEMA's Industry Liason Program Profile Form
Sign up with the National Business Emergency Operations Center
Not registered in SAM yet? Get started with USFCR now. USFCR is not the government, but instead a invaluable resources for businesses who want to succeed with federal contracts.
Related Episodes
The Government Buys...in an Emergency
Stay Current on Government Contracting
For more podcast episodes, click the "Podcast" tag below. To get the latest government contracting updates, subscribe to the USFCR blog. "The Government Buys...a Podcast" can be found on Spotify, iTunes, Google Play, and Tune-in.