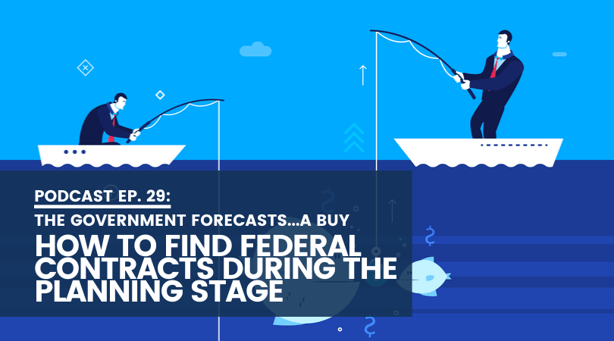 Before the government buys anything, there is usually a build up process to that need. This allows the government to plan their acquisitions. Planning isn't just to create a laundry list of things that need to be done. It's to also provide the biggest opportunity to small businesses.
On this episode of The Government Buys... a Podcast, Alex and Dave help listeners understand where to find acquisition forecasts and how to understand the information contained within them. Registration and Contracting Specialist Robert Renzella also provides some insight into forecasting.
Simplifying Government Contracting
Learn how US Federal Contractor Registration (USFCR) turns government data into useful intel with the web-based The Advanced Procurement Portal (APP). It simplifies finding and managing opportunities in the federal market.
The simplicity of APP might even leave enough time for a peaceful fishing trip. Everyone got their SAM registrations? Alright, then get ready to relax on Lake Forecast and jump in by listening to the podcast.
Listen to "The Government Forecasts...a Buy"
Homework:
Visit the government's master list of acquisition forecasts. Find a forecasted contract that makes sense for you and start pursuing it.
Need help with any of this? Contact USFCR by calling 877-252-2700 or if you would like to talk to this episode's guest, Robert Renzella, you can reach him at 727-440-5234 or by sending him an email.
Related Episodes
The Government Buys...the Academy
Stay Current on Government Contracting
For more podcast episodes, click the "Podcast" tag below. To get the latest government contracting updates, subscribe to the USFCR blog. "The Government Buys...a Podcast" can be found on Spotify, iTunes, Google Play, and Tune-in.