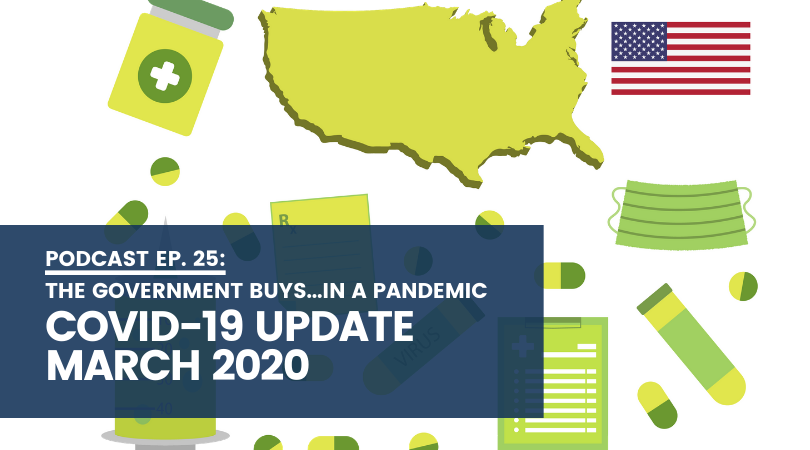 On this special edition of The Government Buys... a Podcast, we analyze the U.S. Government's immediate response with federal contracts to the COVID-19 outbreak.
The national disaster following the outbreak of the corona virus is different than your typical flood or hurricane. Since there is no local area defined by this disaster, federal business opportunities for relief efforts are being posted on a nationwide scale. The data is truly remarkable to look at or in reference to this podcast...to listen to.
Our source for the information in this episode is FPDS-NG's Covid-19 report (March 19, 2020), available on FPDS or betaSAM's Data Bank. Our most recent information states that the government has spent over $36 million with a percentage of that going to small business. For the details, listen below.
Listen to "The Government Buys...The Academy"
Homework
Stay safe and healthy by following CDC guidelines.
Share our podcast with a friend, family member or business associate.
Without a doubt, this contracting report will continue to grow and as the government updates us, we will update you. Subscribe for updates.
Search FEMA's latest federal contract solicitations.
Perform a a search to see your industry's current federal contract opportunities.
Related Episodes and Posts
Ep. 26 The Government Buys..Simply
*UPDATE* Federal Contract Response to Covid-19
Stay Current on Government Contracting
For more podcast episodes, click the "Podcast" tag below. To get the latest government contracting updates, subscribe to the USFCR blog. "The Government Buys...a Podcast" can be found on Spotify, iTunes, Google Play, and Tune-in.