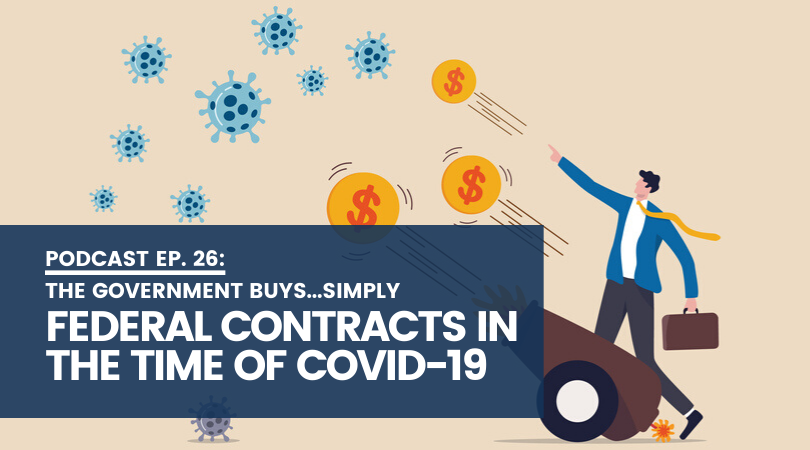 On this episode of The Government Buys... a Podcast, host David Rockwell and Senior Registration and Contracting Specialist, Justin Jones, discuss the most recent changes to the simplified acquisition procedures as of mid-April 2020. How can your small business provide relief and assistance during this national emergency? Are you prepared for the potential economic downturn after the initial crisis is over?
Join us as we discuss how the Simplified Acquisition Program offered by US Federal Contractor Registration can help your small business to connect to the federal government's relief efforts. We also review the newest changes to the thresholds for the simplified acquisitions. For the in depth breakdown of this topic, listen to the complete episode.
Listen to "The Government Buys...Simply"
Homework:
Call in to USFCR's Registration and Contracting Department to speak with Senior Registration and Contracting Specialist, Justin Jones or anyone on the Registration and Contracting Specialist team for your Simplified Acquisition Program Evaluation. Call in to (877) 252-2700 today.
US Federal Contractor Registration is also hosting a webinar highlighting the features of the Simplified Acquisition Program April 30th at 11 am ET. Sign up for the webinar here to learn more.
Related Episodes
The Government Buys in an Emergency
Stay Current on Government Contracting
For more podcast episodes, click the "Podcast" tag below. To get the latest government contracting updates, subscribe to the USFCR blog. "The Government Buys...a Podcast" can be found on Spotify, iTunes, Google Play, and Tune-in.