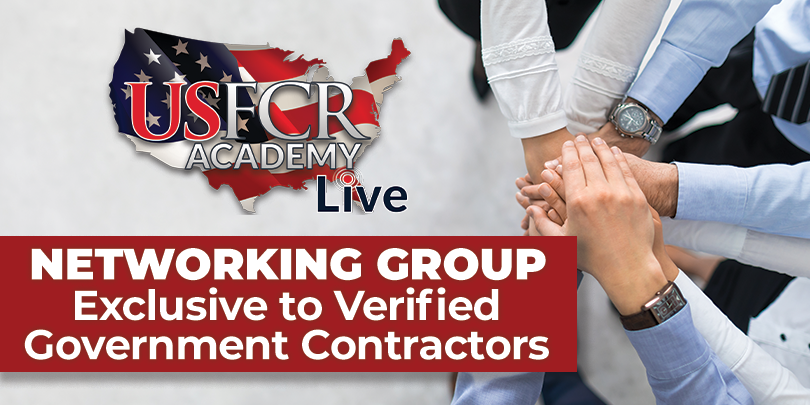 USFCR Academy Live is a social networking group where government contractors lead the show. This program allows people who are winning government contracts to interact with one another, learn the best ways to succeed with government contracts and connect with the world's largest and most trusted third-party registration firm, US Federal Contractor Registration.
Watch Now
Attend USFCR Academy Live Webinars
The networking group is one of the upper levels of USFCR Academy membership. However, in the spirit of helping small businesses, USFCR has opened up the Academy Live webinars to the world. Please come and take a seat to begin learning. Register for an upcoming webinar or watch a past webinar On-Demand.
When you are ready to take advantage of the Academy networking group as well as the bid submission portals, visit the Academy information page to get in touch with USFCR.
Other Networking through USFCR
Government contractors who network can expand their capabilities and increase their past performance. Partnering with other small businesses can be a mutually beneficial experience. Partnering with large companies, can make you look like a reliable, trustworthy vendor.
USFCR's Vendor Management & Compliance Program provides you the tools to know that you are partnering with companies that are worth it.
Stay Current on Government Contracting
For more videos, click the "Videos" tag below. To get the latest government contracting updates, subscribe to the USFCR blog. This video and others produced by USFCR can also be found on YouTube.