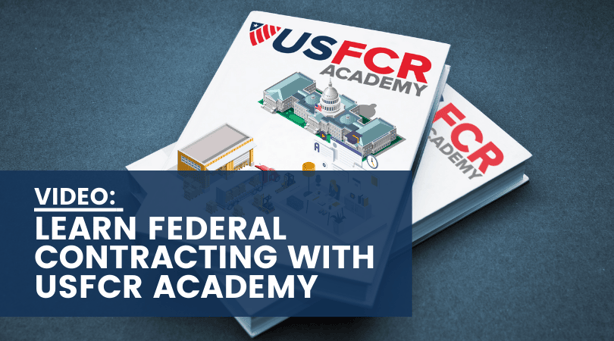 USFCR Academy, the training branch of US Federal Contractor Registration (USFCR), the world's largest government registration firm, has worked with over 100,000 businesses over ten years on their journey into government contracting.
You will not find a single section on the strategy of winning government contracts in the Federal Acquisition Regulations (FAR). USFCR Academy provides the guidance for that part.
We help you understand the ever-changing federal procurement regulations and how to read between the lines.
Watch Now
Businesses, non-profits and individuals enjoy the openness of USFCR Academy. Simply register for and attend a weekly live video to access the Academy. To learn more watch the short video below:
Subscribe and Get More
The Academy provides specific contract bid training lessons that help new and seasoned federal contractors successfully bid on contracts and improve their performance.
Benefits of subscribing to the USFCR Academy include:
Weekly Monday 4 PM ET Bid Training Webinar
Academy Live Wednesday 2 PM ET Lesson, Q&A, and On Demand Past Webinars
Submit Proposals/Bid, Capabilities Statements, and Debriefs for Review
On Demand Training Videos
Up to 5 Specific Bid Reviews Per Month
Academy subscription works for businesses of all sizes. Find out how to subscribe to USFCR Academy.
Stay Current on Government Contracting
For more videos, click the "Videos" tag below. To get the latest government contracting updates, subscribe to the USFCR blog. This video and others produced by USFCR can also be found on YouTube.