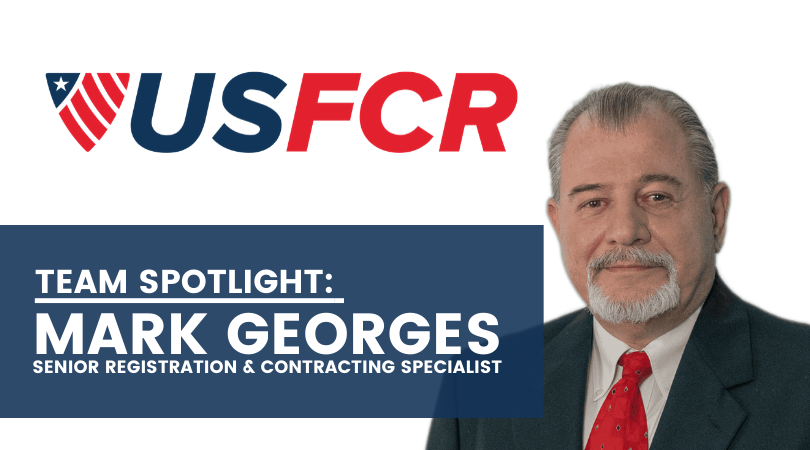 Since 2012, Mark Georges has helped thousands of entities at US Federal Contractor Registration (USFCR) get in compliance for the federal marketplace. This includes businesses, nonprofits, and government agencies.
As a Senior Registration & Contracting Specialist, Mark bridges the gap between businesses and the federal government. Mark will assess a business and their objectives and connect clients to the right USFCR resources for reaching them. This can range from various set-aside registrations, USFCR Academy, and the Advanced Procurement Portal (APP).
Prior to working at USFCR, Mark served in the U.S. Navy. He was stationed at NAS Barbers Point in Hawaii, specializing in anti-submarine warfare. Mark was also a top sales executive at International Paper for 15 years.
As a Registration & Contracting Specialist, Mark Georges can assist clients with the following:
Determining Federal Set-asides
Winning and Maintaining Contracts
Marketing a Business to Federal Agencies
Sealed Contract Bidding
Contracts By Negotiation
Commercial Item Acquisition
FEMA Contracting
Simplified Acquisition Contracts
Mark brings to USFCR clients a direct approach when it comes to delivering a solution to help them meet their contracting goals.
To speak with a Contracting Specialist now, Call: (866) 216-5343
Mark Georges Testimonials
"In my dealing with USFCR and Mark Georges, I have only had a very positive experience. All the personnel have been very helpful and willing to assist us when needed."
- Melissa G.
---


"Both Mark Georges & Melissa Baum of USFCR were very helpful in the SAM Registration, walking me through the complete process in a very timely manner. They met and exceeded my expectations, and I would recommend them to everyone."
- Adam T.
---


"Mark, Melissa: Again, thanks for the seamless renewal of our SAM registration. With the options expanded to up to 5 years, this really takes the burden of remembering to renew and potentially being disqualified for future contracts. Your service is one that we will continue to use for the foreseeable future!"
- Robert M.
About Registration & Contracting Specialists