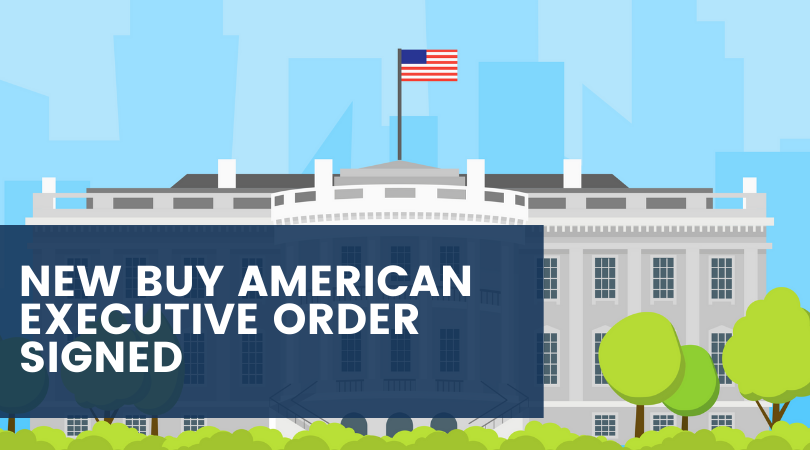 On Monday, January 25, 2021, the White House signed an executive order to strengthen Buy American provisions, that will affect all federal contractors.
So what does that mean for your business?
That's what we're going to answer in this blog post.
Here, we're going to cover:
What is Buy American?
In short, Buy American is an initiative set out by the federal government to create a preference for American-made products and for construction projects to use American-made materials.
The most well-known Buy American Act was the original one passed by Congress in 1933. However, there have been several policies that have followed the same guiding principals as "Buy American."
For example, USFCR client Pacific Continental Textiles Inc. managed to win a $166,000 contract with Defense Logistics Agency (DLA), because of a Buy American policy, The Berry Amendment, which requires the Department of Defense to purchase clothing from American manufacturers.
Buy American Case Study Video:
Changes to Buy American
So what alterations are being made to Buy American?
Here's a rundown of what was included in the executive order:
Closing Loopholes
The new executive order will increase both the threshold and price preferences for U.S.-made goods versus non-American goods. This will increase the incentive that agencies have for purchasing goods made in America.
There will also be updates to what qualifies a product or material to fall under "American made," as well as enforcing this policy.
New Director of Made-in-America
A new Director of Made-in-America at the Office of Management and Budget (OMB) will be appointed to oversee the new changes brought on the by executive order.
Increase Oversight On Waivers
Sometimes, if the cost justifies it, the federal government might choose to buy foreign products or materials over ones made in America. Under the new executive order, there will be an increased oversight on such waivers.
The goal of this aspect of the executive order is to crackdown on unnecessary waivers. All waivers will be published by the General Services Administration (GSA) on a publicly available website.
Active Supplier Scouting by Agencies
The new executive order will direct agencies to use the Manufacturing Extension Partnership (MEP) in order to connect them with new domestic suppliers who employ American workers.
The MEP is a national network located in all 50 states and Puerto Rico that offers assistance to small and medium-sized manufacturers.
Their goal is to help in:
Job creation and retention
Improving efficiencies
Minimizing waste
Deliver innovation and growth strategies
Supporting the Jones Act
The President will continue to support the Jones Act which mandates that only U.S.-flagged vessels can carry cargo between U.S. ports. This continued support will also provide the opportunity for investment in offshore renewable energy.
Cross-Agency Review of Domestic Preferences
Agencies will need to report on their implementation of Buy American provisions as well as making recommendations for reaching these goals. These reports will be completed on a biannual basis.
Summary and Insight of Executive Order
Overall, the executive order will strengthen accountability and transparency when it comes to the purchase of American-made over foreign-made goods and materials. There aren't any "extreme" changes as this order is mostly bolstering existing initiatives.
Important Takeaway for Contractors:
What has not been announced yet are the exact numerical threshold increases on content requirements for goods or materials to be considered "American made," as well as the increase in price preferences.
When these thresholds do get announced, they will get posted on the USFCR blog.
Getting Your Business Ready for Government Contracting
With major boosts in initiatives set for the federal government to buy more American-made products and materials, now might be a great time to get started in federal contracting.
So how do you get started?
Since 2010, US Federal Contractor Registration has been helping businesses find success in government contracting.
We can:
To find out if your business qualifies for government contracting and ways USFCR can help you, get in contact with a federal contracting expert by calling the number below.