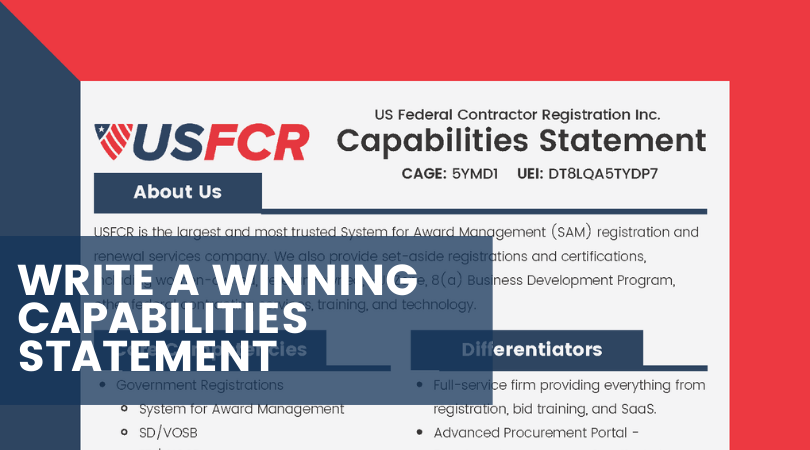 Editor's Note: This post was originally published in February 2019 and has been updated for accuracy and comprehensiveness.
If you want to unlock a wider range of opportunities and increase your cash flow from federal contracting, this is the guide for you.
By the time you're finished reading this, you'll have everything you need to write a winning capabilities statement.
Let's go.
What This Blog Post Will Cover
The Fundamentals Every Contractor NEEDS to Know About Capabilities Statements
In short, a capabilities statement is a resume for your business. It's typically a one- to two-page brief that allows a business to highlight its areas of specialty, expertise, and, of course, overall capabilities. It informs potential clients about what your company does and what separates you from your competitors. It can be as simple or as bold as you'd like it to be, depending on your business. Of course, the more you set your business apart, the better.
Capabilities statements typically include a business's:
Core Competencies
Past Performance
Differentiators
Corporate Data
We'll dive into greater detail for each of those parts later in this guide. Think of a capabilities statement as one of the best marketing tools you can utilize to get your business noticed by both government buyers and prime contractors. It's like having an elevator pitch that you can hand out at a moment's notice.
How a Well-Written Capabilities Statement Can Seriously BOOST Your Contracting Revenue
No matter the size of your business, you should definitely have a capabilities statement. In fact, it's essential if you're hoping to work with the government as an approved vendor. Government agencies often require businesses to submit a capabilities statement with their bids. Additionally, prime contractors may require subcontractors to submit capabilities statements as a way to narrow down their choices.
Just like any professional has a resume detailing their achievements, experience, and skills, each business should have the equivalent.
A capabilities statement can be especially useful in a networking environment as it saves you from having to cram every point into one conversation.
It can also be a great piece to add to your website as an available download for potential government buyers and prime contractors to learn more about your business.
A capabilities statement can be as creative as you'd like for it to be and you can tailor it to any audience.
You should create more than one for your business, depending on your current objective. You may want to highlight certain performance data on one capabilities statement versus something else on another, depending on who your audience is.
This is key is that you don't want to appear to be a jack of all trades and a master of none. Your audience wants to know that your business is real, authentic, reliable, and trustworthy. Creating an engaging and informative capabilities statement can certainly showcase all of your business's greatest assets.
The outcomes of a capabilities statement are enormous. You'll be seen as a trustworthy and reliable vendor which can lead to an irresistible offer to work with the government. The large value is to use this statement to make your business look specialized.
The MOST EFFECTIVE Capabilities Statement Format for Winning Contracts
Even the best company can come off as unprofessional or amateur with a poorly formatted capabilities statement. This is why formatting is so important when it comes to creating a winning capabilities statement for your business.
Your capabilities statement should be clear, concise, and easy to read. It should be a searchable document that's available as a downloadable PDF that can easily attach to emails as well.
It's recommended that capability statements are created in Word or Publisher. If you have an established company logo, you should include that as well as any other professional photos you deem appropriate. The color scheme should coordinate with your company logo as well. Your marketing materials should always be consistent with your company's branding.
Remember that even the tiniest details can be extremely important. This includes:
Fonts
Use of Bullet Points
Word Choice
You may even want to consider hiring a graphic designer and/or professional writer to ensure that not only your capabilities statement is error-free, but that it pops as well!
Ideally, your capabilities statement will be a living document, meaning that it will change depending on the targeted agency.
Remember, each agency has its own mission and focus. You'll want to speak directly to those points using your capability statement. Don't think of this as a one-size-fits-all document. You can tailor it as necessary depending on your audience.
Quick! Jot These Down.
Ask yourself the following questions before creating your government capabilities statement:
Why am I in business?
Why should the government award me a contract?
How can I create a stand-out resume?
What are the unique properties that make my company unique?
What other information does the government need in order to do business with me?
Knowing the answers to these questions in advance will definitely help you to streamline your capabilities statement and make sure you hit all of the most important key points. There are four main parts to a successful capabilities statement that all companies should really focus on. These include:
About Us/Company Overview
Core Competencies
Past Performance
Differentiators
Corporate Data
Facilities or locations
Company data
Contact information
Relevant codes: UEI, CAGE, NAICS
Check Out This Example of a Capabilities Statement: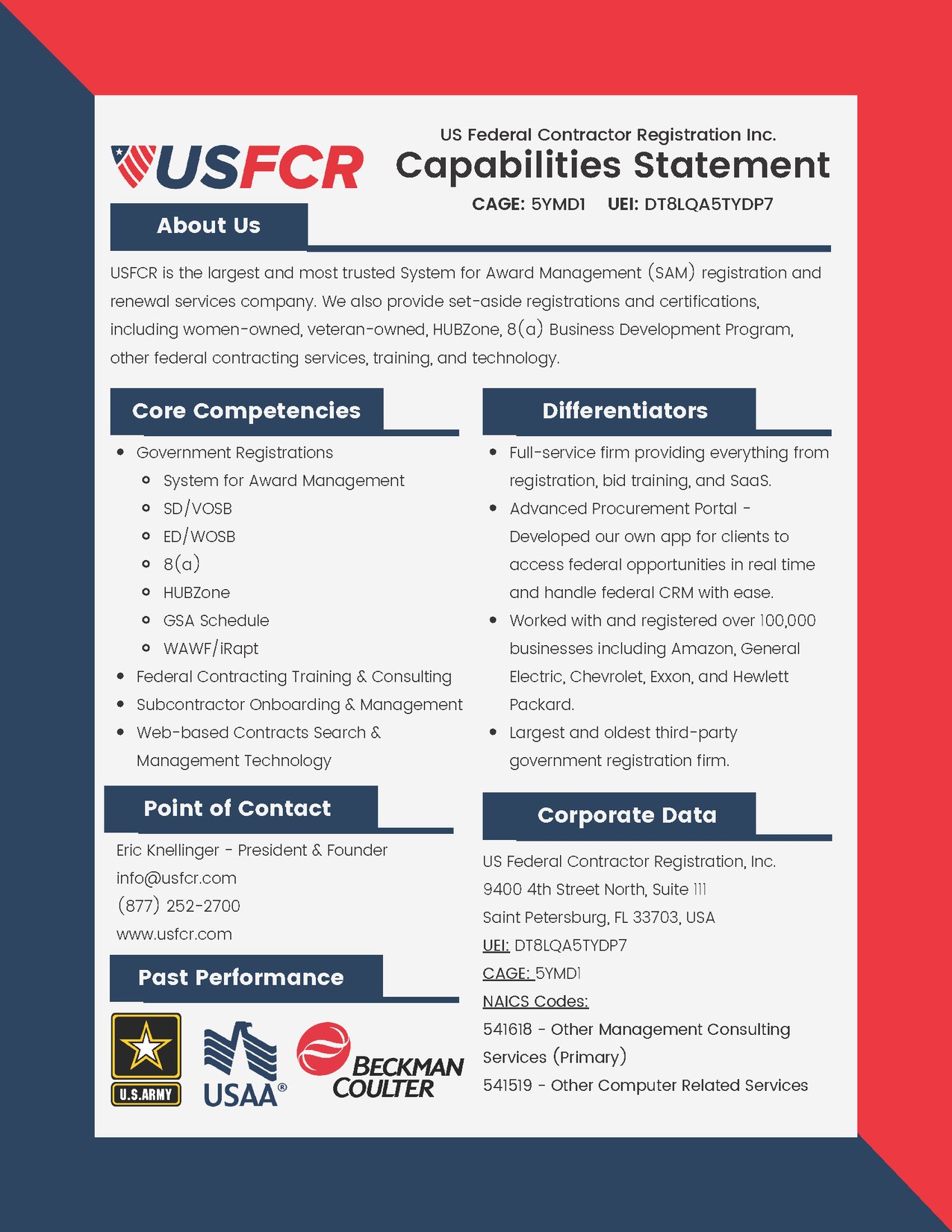 About Us/Company Overview
Before diving into your company's core competencies, the very first thing that you'll want to include in your company capabilities statement is an "About Us" or "Company Overview" section. This should detail your company's history and an overview of the products and/or services that your company offers.
You may want to include how many years you've been in business and a bit about the company's Owner/CEO as well. Think of this part as the equivalent of an "Objectives Statement" on a personal resume.
It should be short and sweet, yet powerful and engaging. Now, we'll go into more detail on the other main parts.
Core Competencies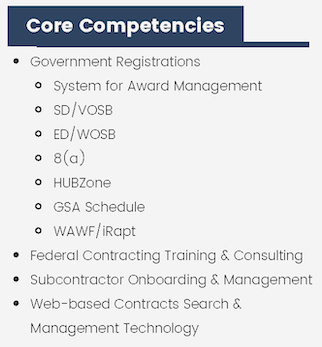 Essentially, the core competencies section is where you can simply list out the services and/or products that your company provides as it relates to your customers' specific needs.
From "Electrical Design" and "Cost Estimating" to "Project Management" and "Systems Analytics", your core competencies can range greatly depending on your industry. Be sure to include anything that you believe will catch the eye of the specific client you're hoping to work with.
The core competencies section of a capabilities statement is typically laid out in bullet form. Some companies also include icons next to each point to further illustrate their offerings. This can be a neat way to add interest to your capabilities statement but don't overrun your page with graphics. You can keep it both fun and professional at the same time.
While this list of core competencies doesn't have to be in any specific order, it's best to start with your company's most specific and specialized services first. This will surely help you to differentiate your company from the rest.
Don't get bogged down with having to include every little thing that your company has ever done on this list. That is not the point of the core competencies section. Rather, focus on what your company does best. This should be an overall tailored, agency-specific overview of what your business can uniquely offer.
Past Performance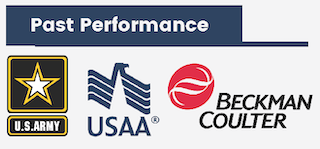 Bids are often awarded either by price or a combination of value and past performance.
In this section of your company's capabilities statement, you'll want to identify any federal, state, and/or local government contracts as well as any private/commercial contracts of similar scope, size, and complexity.
Any proof of past performance will surely set you apart from your competition.
You should prioritize this list with vendors whom you've done similar work for. If your company's past projects do not relate to the targeted agency's needs, you can leave them off of the list.
However, if you're a relatively new business/start-up, you may want to list any past projects just to show that you have some experience.
Additionally, you may want to include the contact information of the people you've worked with on past projects. This way, the government buyers and/or prime contractors have easy access to contact your references and make a decision more quickly.
Differentiators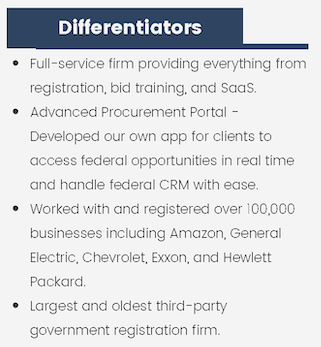 This is one of the most important sections of your government capability statement.
How does your business stand apart from the rest? What makes you different? Why should the government choose YOU?
Securing a contract with the government is no easy task; in fact, it's extremely competitive. Imagine yourself as a government buyer or prime contractor– with so many bids to go through, it's easy for companies to blur together. If you were a buyer or contractor, what would catch your eye?
This section of your capabilities statement should be short and sweet. You'll want to write a few succinct and clear statements that relate to the specific needs of the agency you're hoping to work with. These short sentences can be in a bulleted format or simply written as a statement.
Can't quite think of what to write in this section? Here are some questions that you should be answering:
How is your company best suited for the needs of this agency?
What is it about your product or services that sets you apart from the rest?
How does your product or services offer better solutions than the others available?
Another great tip? Talk to your past clients! Ask them why they chose you over the others and include these reasons in your capabilities statement. Without this section, it's nearly impossible for a government buyer or prime contractor to make a clear decision.
Surprisingly, many companies fail to include this critical section in their capabilities statement. So, just by highlighting your differentiators, you'll already be differentiating yourself from the competition!
Corporate Data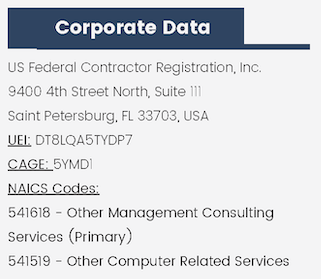 This section of your company's capability statement is fairly straightforward but includes a few different subsections. You'll want to include your company's:
Location
Relevant Contact Information
Codes (UEI, CAGE, NAICS, NIGP, etc.)
Furthermore, be sure to include your company's website in this section as well. And, on that note, be sure that your website is always up to date with the latest information. The last thing you want to include is a link to an outdated website that will surely have a government buyer moving you to the bottom of their list.
Corporate data may also include your company's partners, enterprise architecture, computers, and/or any other technology that you can leverage to support your client.
You'll also want to include a range of financial information about your firm, including your company's revenue over the last three periods, the number of employees over three periods, and the typical geographic areas you serve. What areas do you cover? What is your forecasted revenue for year-end? Be sure to make it aggressive, post any insurance or license information that you have, and up to date always contact information.
Insider Tips to Make Your Capabilities Statement Stand Out ABOVE Your Competition
Gathering your content and laying out your capabilities statement is only half the battle. This is a document that should be constantly maintained and updated as your business changes and grows.
Formatting
Once you've created your capabilities statement, making sure to include all of the above sections, you'll want to ensure the document is laid out properly and saved in a format that is compatible for sharing with others. In fact, capability statements can come in all forms, including HTML/web pages, Word documents, PDFs, and even self-running CDs.
Your capabilities statement is your company's first impression, so you want to make it stand out from the crowd. It should be clear that you've spent time on this document and that it wasn't done in a last-minute rush. Typos, grammatical errors, and poor formatting are a sure way to lose out on a government deal.
If you're printing it to hand out to others, use a high-quality, thick/glossy paper. Be sure that the colors used are consistent throughout your company letterhead, website, business cards, etc.
Also, don't fill up every inch of your capabilities statement with words and graphics– be sure to leave some white space for easy readability.
And while it's good to have a general capability statement, you should also consider creating a new document for each individual agency, prime, or teaming opportunity. This way, each capability statement is tailored with all of the unique information it needs for that particular opportunity.
You should really take the time to make sure your capabilities statement is perfect.
Keep up with the Competition
Remember, you're not the only one in this game. There is plenty of competition out there. The key is to constantly monitor what your competition is offering– what would make the government hire them over you? What can you change to give your business an edge over your competitors?
Now is not the time to be lazy or sloppy– you need to highlight all the greatest qualities of your business through your capabilities statement.
Networking is Key
Any business can build an excellent capabilities statement…but even the best of the best can be overlooked or sideswiped by someone who has built better connections throughout the year.
Building relationships with purchasing officers that your competition already works with is essential. You'll want to make sure that your offer is as good or better than what your competitors are offering.
Don't let a competitor's success overwhelm or discourage you. Rather, let them motivate you to become bigger and better in terms of performance and success.
It's possible to gather intel from purchasing officers about upcoming contracts and/or vendor awards. Keep building up your base of vendors you work with and look for ways to scratch their backs so they can scratch yours later.
Never forget the power of networking; there is more than one way to skin a cat. Networking is especially useful if you're a newer company and don't have any past performance experience.
Additionally, whether you win a contract or not, it's always good to reach out and request a debriefing. This is a great way to not only glean information for next time, but it also makes a good impression and shows that you're willing to learn as you move forward.
The capabilities statement is pretty much a resume for your company. When giving out your capability statement, you want to make it stand out from the crowd. Here are some tips:
Use glossy/thicker paper
Present a seamless marketing profile — same colors on all letterhead, business cards, websites, and capability statement
Use graphics
Be creative
Tailor your statement for specific uses
Update and Refresh
It's essential to make sure that your capabilities statement is always fresh and up to date!
Don't just keep recycling the same capabilities statement year after year. Be sure to always tailor it to the exact job you want and the agency that you are sending it to.
One of the most important areas to keep updated is your company's contact information. What good is creating a stunning capabilities statement if a government buyer or prime contractor is unable to get in touch?
Don't wait until the last minute to update your capabilities statement. This should be an ongoing process throughout the year so that you're always ready to land the next big contract. There are too many details that can fall through the cracks– but if you stay on top of it, you'll surely be ahead of the game when it comes time for the government to award contracts to their chosen vendors.
Don't Be Afraid to Follow-Up
Be sure to send your company's capability statements out to as many purchasing officers as possible. However, don't just stop there. Just because you've sent it to a prime or purchasing officer one time does not mean that he or she has necessarily seen it. These purchasing officers are inundated with marketing materials, and it may take several calls and emails for it to be seen.
The key is to send it once, and then keep sending it until you get a response. There's a fine line between being persistent and being pushy.
You can always follow up with an email. Remember, the best way to stand out in the federal government is to be real, authentic, and to demonstrate your reliability and trust.
Originally published Feb 19, 2019 at 1:22:00 PM, updated Apr 27, 2022.