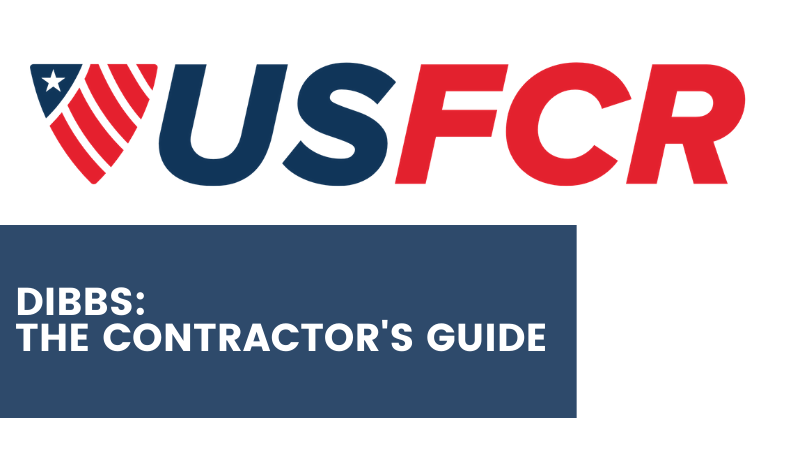 Government contracting is a long-term business investment. The decisions you make today can affect where you are in five, ten, or even twenty years from now. Turning over one small rock can potentially reveal a whole load of opportunities for your business. So in this post, the rock we're going to help you turn over is DIBBS and working with the Defense Logistics Agency (DLA).
Why?
Because the DLA buys A LOT. Ignoring this agency means that your business is ignoring tons of opportunities for revenue. Plus, your competitors might not have tapped into this resource yet. Many people steer away from using DIBBS because it requires a registration and a bit of learning. Well, the truth is that the registration is easy. Plus, finding opportunities and submitting offers on DIBBS is simple if you have the right information in front of you (which it is right now).
By the time you're done reading this guide, you'll be ready to set-up shop with the DLA. Here, you're going to learn:
The DLA and DIBBS
For those not too familiar with the military, the Defense Logistics Agency (DLA) is basically the supplier of the U.S. armed forces. Starting in WWII and in the decades following, the four branches of the military recognized a need to streamline their supply efforts. In the 1960s this growing necessity lead to the creation of the Defense Supply Agency. As time moved on, the agency's responsibilities expanded to contract administration. With the added duties, the agency was given its present day name.
There's a lot of history between those points, but that's pretty much the basic gist of it.
Today, the Defense Logistics Agency has locations in 48 states and 28 nations. They help provide supplies such as weapons fuel, repair parts, and many more while supporting the acquisition process. They also play a role in providing relief to victims of natural disasters and humanitarian aid for refugees.
So where does DIBBS come in?
DIBBS stands for "DLA Internet Bid Board System." Basically, it's a portal for contractors to submit quotes and proposals for a DLA solicitation. So although you can search for opportunities for it, it's not as much of a contract search portal as FedBizOpps. On DIBBS you will primarily find opportunities listed as Request For Quotes (RFQs) and Request For Proposals (RFPs). Here's a rundown:
Request for Quotes (RFQs)
Under $100,000
Average opportunities are for less than $4,000
More Common Than RFPs
Generally quoted on the website
30-35% are awarded without human intervention
Request for Proposals (RFPs)
Over $100,000
More of a "hands-on" process to complete
Proposals may be negotiated
How to Register on DIBBS
In order to submit offers for DLA contracts, a registration on DIBBS is required. Compared to other parts of the government contracting process, this will be a breeze. To be eligible in the first place, you need to be registered on SAM.gov. So if you already have taken care of this, or had a third-party registration firm help you, then most of your work is done.
As obvious as it may seem, your first step will be to visit the DIBBS website. However, when trying to reach the site, you might see a notice of a privacy error.
Simply use whatever measures are available on your browser to bypass the error. On Google Chrome for example, just click on "Advanced" and the link will be at the bottom.
On the DIBBS home page, click the "Vendor Registration" link to begin the process.
Next, you enter your CAGE code and follow the registration prompts.
Since you already completed your SAM registration it will display all your information since the government already has it.
Be sure to double-check your address as you will be requesting a post card to be sent for verification.
Easy, right?
How to Find DLA Opportunities
There are multiple ways that you can find contracts with the DLA. We're going to take you through all of them, but some are going to be more difficult than others. For the sake of the guide, we're going to take you through all of them so you know how they work.
FedBizOpps
As a contractor, chances are that you're the most familiar with FedBizOpps. After all, it was developed by the federal government the purpose of finding opportunities. If you're new to the sector, then we recommend checking out this easy-to-use guide to get you started on using FedBizOpps.
So basically, you're going to use the "Advanced Search" as you normally would and fill out the relevant search fields.
Then, for the "Agency/Office/Location(s)," you're going to select, "Specific Agency/Office/Locations."
In the search bar below, type in "Defense Logistics Agency." When it shows up in the search, just click on it.
Hit the search on the bottom of the page.
When you find a relevant result, just click on it and scroll down the page.
You will find a section that's labeled under "Additional Info." Click on that and you will be brought to DIBBS.
You will find the RFP or RFQ. Under the "Documents" section, you will find a PDF with the solicitation.
Advanced Procurement Portal
The Advanced Procurement Portal is a tool developed by US Federal Contractor Registration. It was designed to make opportunity search, government CRM, and market research simple as well as all in one place.
Login to APP and go to "Find Opportunities."
Click "Search Filters" and enter in "Combined Synopsis and Solicitation."
Then type "Defense Logistics Agency" in the "Agency or Office" field.
Enter your set-aside in the "Set-Aside" field.
When you hit "Apply Filters," you will find relevant results. Click on the name of the solicitation and click on "View More."
On the page, there will be a link that takes you to the opportunity on DIBBS.
If the link to DIBBS isn't present, then you can simply follow a link to FBO on the bottom of the page.
DIBBS
To reiterate a point mentioned before, there are easy ways to search for DLA contracts and there's the hard way. APP is going to be the most user-friendly since you can also save and get live updates on the opportunity you're considering. The primary purpose of DIBBS is for the submission of quotes and proposals.
With that in mind and this being a comprehensive guide, we'll show you how to use DIBBS to find opportunities. Using DIBBS, there will be different ways in which you will search for an RFQ vs. an RFP.
RFQ
On the homepage, click on the RFQ tab near the top.
You will then find two boxes. One says "Custom Queries" and the other says "RFQ Solicitation Text Search." You're going to use the "Custom Queries" to find RFQs.
In this box, you will find various sections. Here's a breakdown of what they mean:
Search Categories - What you want to show up in the values you enter in the boxes below. "Federal Supply Class" is going to be the most useful.
Search Values - Where you will manually enter your search categories.
Scope- This will determine the timeframe and availability of your search results.
Sorted By - The order in which your results will be displayed.
Show Only - You can use this field to narrow down your results. The "Fast Award Candidate" indicates that these are micropurchases that will be evaluated by a computer and will be awarded after one day if an offer is deemed fair and reasonable.
To search, you going to want to go by Federal Supply Class (FSC). In order to do this, you will need to enter a relevant FSC for what you are looking to sell.
You will then want to set the scope to the most recently posted RFQs to find what opportunities are the most readily available.
For "Show Only," you can enter in your relevant set-asides or if you're looking for a Fast Award Candidate Opportunity.
RFP
Searching for RFPs is going to somewhat similar to finding RFQs, but your options and search criteria are going to be a bit limited. Again, remember that it's a whole lot easier to find DLA opportunities with either APP or FedBizOpps.
To Find RFPs you're going to select "Search Categories" and click on "NSN/Part Number." NSN stands for "national stock number." It's pretty much a 13 digit code that recognized by all NATO countries for recognizing material items.
Enter your relevant NSN in "Search Values." Enter "Submit."
You can also find a complete list of all of the most recently RFPs that were issued by clicking on "RFP/IFP/Other RFQs by Issue Date" above the search box.
Submitting a Quote
If you've been searching with APP or FedBizOpps, you will be taken directly to the RFQ Record.
If you've used DIBBS, you will have to dig through your search results find a relevant opportunity. Make sure you check the quote status to see if it's still open or removed.
In the "Documents" section of the RFQ Record, you will find a PDF of the solicitation. Click on it to open it and read it carefully to check if this is right opportunity business.
If the opportunity is a go, then click on Quote. Here's a guide from the DLA to take you through the form and submitting it.
Submitting a Proposal
The process of submitting a proposal is going to be more hands-on and less technical. Before you begin the submission process, be sure to read the solicitation carefully. Not all RFPs from the DLA require you to submit the proposal through DIBBS.
On the list of RFPs for your search results, you're going to find a red Offer icon.
Select it and you will be brought to the Upload Offer page.
From there, it's pretty self-explanatory. In the section titled, "Upload Document for Submission" you can browse for files on your computer to submit for the RFP. You can use this field to submit any other documents the solicitation requires. You can use this guide from the DLA.
What are you waiting for?
Government contracting takes time and commitment. This applies to whether you're branching out your business or started one for the sole purpose of working with the government. Don't you want to get the most out this long-term investment? If you've gotten yourself registered in SAM or had a third-party take care of it for you, then there's little to no work to be done to start selling to the DLA. At this point, you're just filling out user information and a password.
Working in this sector means flipping over rocks to find opportunities. These opportunities can lead to working relationships which can secure you a source of revenue during the next economic downturn. Do you really want to be beating yourself up when the next recession occurs and you can't find a reliable source of revenue? There's a wealth of opportunities out there and it just takes 5 minutes to get registered in DIBBS.