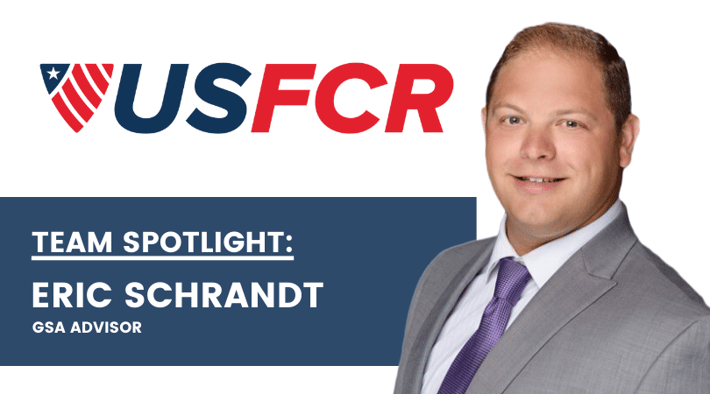 At US Federal Contractor Registration (USFCR), we are excited to announce that Eric Schrandt has been appointed as our new GSA Advisor. Eric brings over 13 years of sales, management, and consulting experience to his role, having joined USFCR in 2019. He is dedicated to helping his clients achieve the best outcomes possible and establishing long-lasting trust-based relationships. 📆Schedule a call with Eric.
As a GSA Advisor, Eric bridges the gap between businesses and the federal government, evaluating their objectives and connecting them with the resources they require to begin working with the General Services Administration (GSA). Eric is an expert in GSA Compliance and Certification, Simplified Acquisition Procedures, Sole Source Contracts, the Advanced Procurement Portal, and Competitive Research.
Before joining USFCR, Eric was a sales director at a web development firm catering to small businesses for eight years. He owned several construction, landscaping, hardscaping, and real estate firms.
With his experience helping businesses grow through the federal marketplace, Eric is an invaluable asset to USFCR's clients.
If you are interested in determining your eligibility category and competition, if any exists, speak to Eric at (727) 209-4580
Eric Schrandt

Testimonials

"Eric Schrandt is one of the most professional and knowledgeable people I have ever had the pleasure of working with. I highly recommend his services!"

- Andrew P
---