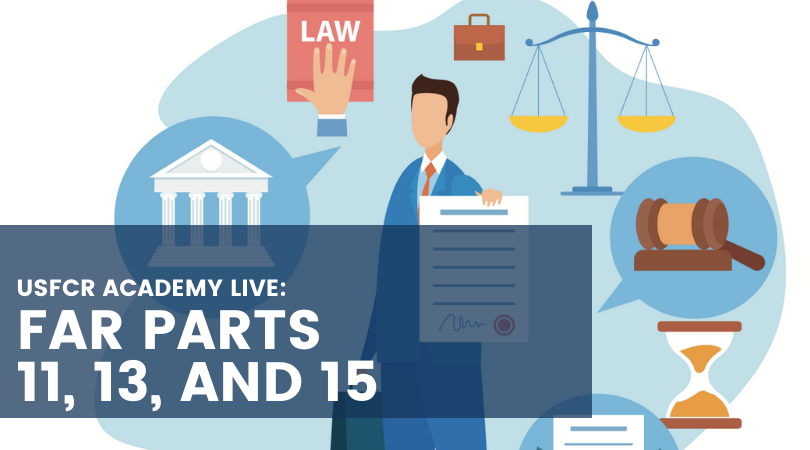 Last week we covered the basics for understanding the FAR (Federal Acquisition Regulation). It
is a set of regulations issued to make a standard set of processes for government acquisitions.
Here are some FAR Regulations in more detail.
USFCR Academy Live is hosted every Wednesday at 2 PM ET, check out this week's USFCR Academy Live
on YouTube.
FAR 11 - Describing Agency Needs
In this part the government details how they will describe the need of the agency in the
solicitation. Though this is geared towards the government, there is still useful information
included such as the market acceptance procedures.
Did you know the government encourages innovative product solutions however at times will ask for a brand name or equal product?
When asking for a brand name the solicitation must include descriptions of the physical, functional and performance characteristics so that offerors judge if their product is of equal specifications.
FAR 13 - Simplified Acquisition Procedures
This part describes policies and procedures for the acquisition of supplies and services, including construction, research and development and commercial items procurement.
It also describes the current aggregate amount of which a contract cannot exceed to stay within the simplified acquisition threshold. Since simplified acquisition contracts are mostly for small businesses, it is a good FAR part to become familiar with.
FAR 15 - Contracting By Negotiation
This part describes policies and procedures governing competitive and noncompetitive
negotiated acquisitions. It includes information on source selection and describes the uniform
contract format which will help you to navigate quickly through solicitation notices.
Did You Know?
"Oral presentations may occur at any time in the acquisition process, and are
subject to the same restrictions as written information, regarding timing and content."
– FAR 15.102.
A solicitation may require a vendor to submit a portion of their proposal though an oral
presentation.
FACT
"Contracting officers should use the System for Award Management as their primary
sources of vendor information. The status information may be used as the basis to ensure that small business concerns are provided the maximum practicable opportunities to respond to solicitations issued using simplified acquisition procedures." -FAR 13.102
Back to Basics
The FAR provides government-wide uniform policies and procedures for