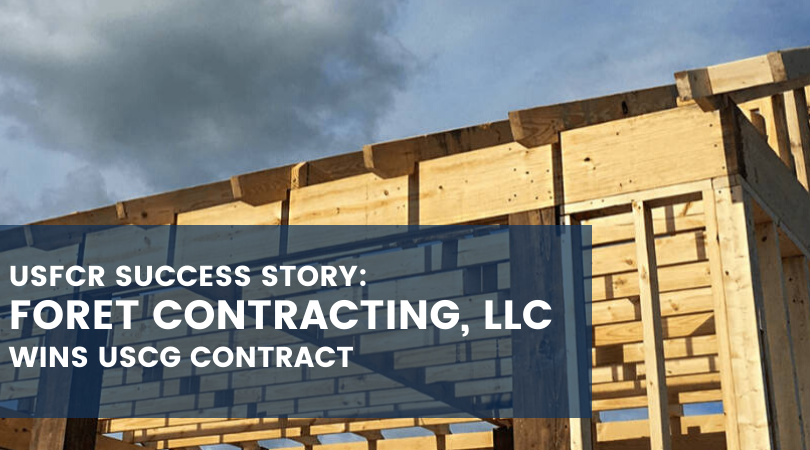 Foret Contracting Group, LLC is a construction, landscaping, and building maintenance company based out of Thibodaux, Louisiana. Through US Federal Contractor Registration's (USFCR) Simplified Acquisition Program, they won a contract for grounds maintenance for the U.S. Coast Guard Base New Orleans.
Video
Background
Foret Contracting Group, LLC is a small construction and landscaping business with experience working in the commercial sector and with local governments. They sought to enter the federal marketplace to broaden their opportunities and expand their services throughout the Gulf Coast and across the United States.
To do so, they first needed a complaint registration in the System for Award Management (SAM). This is the first requirement for all businesses looking to enter the federal sector. However, compliance is just one component. They also needed cost-effective marketing materials that were suited for working with the federal government.
Solution
To get started in the federal space, Foret hired US Federal Contractor Registration (USFCR), enrolling in the Simplified Acquisition Program (SAP). The first component of the SAP consists of USFCR's SAM registration service.
"USFCR helped facilitate the registration process which can be complicated if you are unfamiliar with the federal procurement system."

- Mandi Foret, Business Development
USFCR's SAM registration service is an outsourcing solution for getting in compliance for federal contracting. Foret was provided with a worksheet from USFCR where they provided key company information. USFCR's Case Management department verified the information they and processed the registration on the behalf of Foret.
The next step of the process was setting up Foret's DSBS profile, email domain, and online capabilities statement. For this part of the SAP, USFCR's web development took information of Foret's core competencies and past performance, creating a custom website that was consistent with the company's brand.
With the same information, they were able to optimize Foret's DSBS profile to boost the business' visibility to prime contractors and federal agencies.
Outcome
The implementation of the Simplified Acquisition Program was a success for Foret. With a compliant SAM registration, the company was eligible for federal contracts. By having an online capabilities statement, contracting officers can access the information they needed to make a buying decision.
"Be open to expanding your offerings and getting out of your comfort zone. Look past the contracts that interest you."
- Mandi Foret, Business Development
Within four months of using USFCR's solutions, they won their first contract with the U.S. Coast Guard. The contract, valued at $11,813.52 was for providing grounds maintenance for the USCG's location in New Orleans, Louisiana.
Guaranteed compliance for federal contracts
Verified vendor seal
USFCR Academy LIve networking and Webinar Group
Web development for online capabilities statement
Dynamic Small Business Search Optimization
Custom Email Domain
Opportunity search
Live contract updates
Government CRM