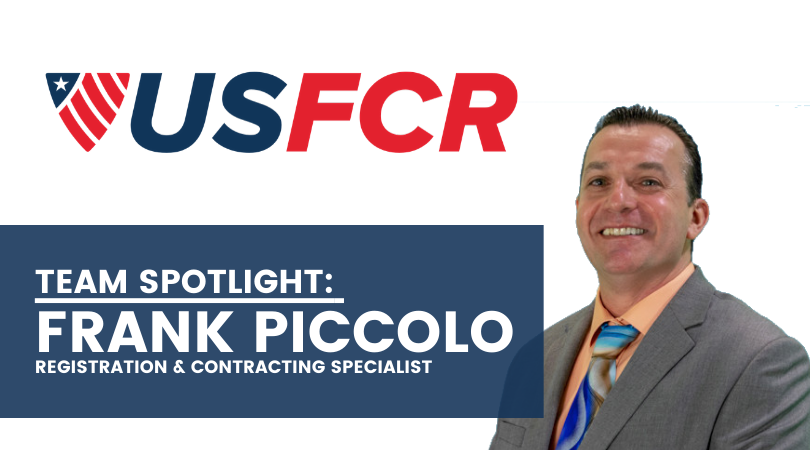 Since 2019, Frank Piccolo has been using his knowledge and determination to advance businesses in the federal marketplace. To him, the greatest reward is knowing that he can make a difference in a client's life.
At US Federal Contractor Registration (USFCR), Frank's job as a Senior Registration & Contracting Specialist is to bridge the gap between businesses and the federal government. He does this by assessing businesses and their objectives and connecting them to the right USFCR resources to reach them. This can range from various set-aside registrations, USFCR Academy, and the Advanced Procurement Portal (APP).
From getting started to finding success as a federal contractor, Frank works with businesses along every step of the way.
Before working at USFCR, Frank was a General Manager of TMX Finance, a District Sales Manager at Buddy's Home Furnishings, and a District Sales Trainer at TransWorld System.
As a Registration & Contracting Specialist, Frank Piccolo specializes in:
Simplified Acquisition Contracts
Business-to-Government Marketing
Differentiators
Set-Asides:

HUBZone
8(a) Business Development Program
Service-Disabled/Veteran-Owned Small Businesses (SD/VOSB)
Economically-Disadvantaged/Women-Owned Small Businesses (ED/WOSB)
Frank brings USFCR clients a blend of positivity, enthusiasm, knowledge, and determination to help them reach their goals.
Frank Piccolo Testimonials
"I am writing to thank you for the excellent services you and the USFCR provided to our firm, Bryant & Bryant Consulting, LLC. Our first conversation with you and subsequent follow-ups with the team was always insightful and courteous. You and the team were easy to work with. You expertly communicated the services and time frame for completion.
Although we were challenged financially due to the pandemic and other financial constraints, you encouraged us and made it possible for us to have moved forward with the process. At no one time during the process did you or the team fail us. Your promptness in responding to questions and emails is symbolic of a reliable partnership. Thus, we are profoundly delightful to you and the USFCR team as a trustful partner.
We highly recommend Frank Piccolo and the team at USFCR for their services."
- Dr. Cedric & Dr. Widza B., Bryant & Bryant Consulting
---
"Frank is very patient and understanding, remaining in the loop to ensure any issues were resolved!"
- Terry W. Evolving Metals, LLC
---
"Frank, Savannah, Mary, Jessica, and Nina were all very knowledgeable and did a great job communicating throughout the process."
-Joseph N., BluSky Holdings, LLC

"Dear Frank,
Just wanted to drop a note thanking you for the walk-through of the USFCR website you conducted with me this past Saturday. You very successfully guided me through the main features of the site and assisted me in beginning to set up my search parameters.
Your professionalism and patience were very much appreciated, both from Saturday's call and yesterday when I called you to explain how each opportunity alert is coming into my feed 4 times. You explained what the possible reasons for that would be and promised you would create a ticket with your IT people to have it addressed.
It is refreshing to do business with someone who does not abandon his client once the deal is done.
I am looking forward to working with you, and for the measurable success I am sure we will experience in working with USFCR."
-Andrew R. , A&P Remodeling Co.
---
About Registration & Contracting Specialists
To speak with a Registration and Contracting Specialist, Call: (866) 216-5343