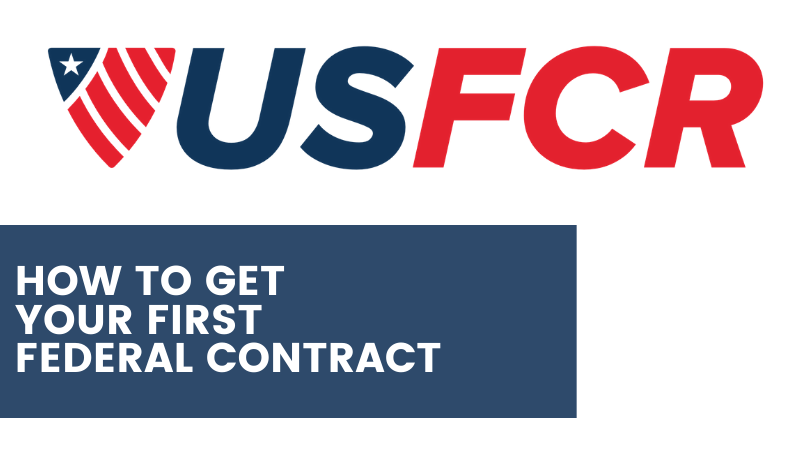 Before you can bid on federal contracts, you must complete your System for Award Management (SAM) Registration. Only businesses that have completed their registration can submit bids and receive federal contracts.
Completed your SAM Registration? Then it's time to start submitting bids for federal contracts. While landing your first government contract can seem like a daunting, and sometimes impossible, task, we can help. We present below the information you need to confirm you're ready to submit bids; find information about procurement opportunities; reach out to and talk with procurement officers; and actually submit a bid.
If you have questions, please feel free to call us at 877-252-2700.
Before you bid, do your homework
There are federal contracts available for anything, from coffee cups and towels to disaster-relief efforts, airplane parts, and office space. And the federal government is set up to make it easy for small businesses to compete with large businesses (known as prime vendors). Minority, women, and veteran-owned businesses often have the advantage, because the federal government each year earmarks a percentage of their planned contract awards to these types of small businesses.
Before you can bid on government contracts, you need to know where to find information about available contracts and also how to confirm that you're qualified to bid on the contract. You can find information about available government contracts online. We update this list of available opportunities every day.
Federal contracts are often readily available but how does a business tell if they qualify for these contracts? The first step is to look and see what opportunities are available. A business can quickly search to find out which contracts are available by going to Search Federal Contracts. When a business looks at available Federal contracts, the business should understand that these contracts are currently available today only and will update every day for the next year.
Next, look online for information about which companies in your industry have received government contracts. To identify businesses and companies in your industry, you can search by NAICS code(s) or by keyword. Visit NAICS.com for information about NAICS codes. When reviewing previously awarded contracts, note the date signed and the award amount. This information tells you who is getting contracts and for how much.
Finally, identify your likely competition. You can look online for other companies and businesses that provide the same services and products that you provide. A company's website can tell you a lot. For example, you may learn that one of your competitors has a license, is bonded, and is insured. If you're bidding against this company, and you aren't licensed, bonded, or insured, the procurement officer will likely pick that company over you, even if all other parts of your bids are equal.
How to get your first federal contract
It's a Catch-22. The more experienced you are, the easier it is to land a government contract, but landing a government contract without having much experience is difficult, and sometimes impossible. So if you want to get a federal contract? Be prepared to work hard, sometimes for less money that you think you deserve, and keep your clients happy.
The federal government looks for information about bidders in three databases: PPRIS, FAPIIS, and CPARS. These three databases are like giant review websites that the government uses to record and track past performance. The better your reviews, the more likely a procurement officer will trust that you can deliver what you say you will deliver.
And here's how you can get examples of past performance and begin racking up good reviews:
Work as a Subcontractor to a Prime Vendor
Large federal contractors often must subcontract out parts of contracts to small businesses. A small business that works as a subcontractor not only makes money but also earns valuable (and necessary) past performance. You can information about prime vendors online to find information about prime vendors interested in teaming and partnering on large contracts.
Subcontractors often decide to continue subcontracting even after becoming an established prime vendor, since the return on investment can often be large. Subcontractors that are 8a Disadvantaged can really excel at subcontracting, as can WOSB (Women Owned Small Business) and VOSB (Veteran Owned Small Business).
Enroll in the Simplified Acquisition Program
You also can find information about prime vendors and subcontracting opportunities through our Simplified Acquisition Program. The Simplified Acquisition Program is a program designed to allow vendors to compete for contracts valued at between $2,500 and $150,000. Procurement officers award Simplified Acquisition contracts, which are set aside for small businesses, without businesses needing to bid. Simplified Acquisition contracts give businesses valuable best performance without them needing to bid. Many of our clients land their first contract via our Simplified Acquisition Program.
The best advantage to Simplified Acquisition Contracts has to do with the fact that a new vendor is saved from submitting bids. Bids can add confusion to the contracting process and Simplified Acquisition Contracts can be great way to get started in gaining that valuable Past Performance. Simplified Acquisition Contracts are the best way to get your first federal contract.
The Simplified Acquisition Program includes the following:
System for Award Management (SAM) Registration
Official Government Profile Creation in Dynamic Small Business Search (DSBS)
Monthly Email Bid Notifications and Contract Support
Complete Government Business Plan with Direct Access to Buyers and Prime Vendors
Website Creation in Standard Federal Format
Training for the Simplified Acquisition Environment
The program has been very successful, and you can read client success stories in our Simplified Acquisition White Paper.
You can find more information at Simplified Acquisition contracts FAR 13 about how the federal government awards contracts in this range, and information about the Simplified Acquisition Program here.
Be available to provide emergency services
When a contracted vendor cannot make a service call or fulfill an emergency need, and this current need is either not under contract or needs to be fulfilled in less time than it would take to solicit bids, a procurement officer may simplify award a contract to a capable business. Being available for emergency work often can open contracting doors that otherwise would have stayed shut.
For example, one of our clients — a contractor who provides plumbing services – responded to a call to provide plumbing services at a courthouse in Texas where toilets were overflowing. After fulfilling this small contract, our client bid on and secured a large contract for a lucrative plumbing contract because he was able to provide information about past performance.
So how do you better position yourself to get emergency work?
Complete your DSBS Registration (which is included with our Simplified Acquisition Program)
Reach out to federal contacts (which we provide you as part of our Simplified Acquisition Program) that may need your products and/or services, and let them know you are interested in and available for emergency work.
Make sure someone always answers when someone calls, be it an employee or answering service. During an emergency, a procurement officer likely won't leave a message and wait for you to callback; they'll simply call the next business on the list.
Include information about your insurance and bonding with your SAM Registration.
Accept state and local contracts
Accepting a contract to provide services and products for at a state or local level is one way to gain past performance. However, federal procurement officers count state and local past performance less than federal past performance. Accepting a state or local contract will provide revenue and experience, so don't overlook these opportunities; just don't prioritize them.
How to reach out to procurement officers
You must develop relationships with procurement officers. You must make information about your business, products, and services available to procurement officers. You must develop relationships with procurement officers. This is so important we list it twice. Procurement or contracting officers review bids and award contracts. Faced with two identical bids from companies with identical past performance who provide identical services, chances are a procurement officer will award the contract to a company he or she knows or has heard of rather than to a company he or she knows nothing about.
How do you reach out to procurement officers? Here are three ways and information about knowing when and when not to follow up.
Identify key procurement officers
You must identify procurement officers who tend to solicit bids for services and products that your business provides. You can information about procurement officers online (such as at FPDS.gov and via Google searches) or, thanks to our Simplified Acquisition Program, you can use the list of procurement officers in your industry that we provide you. This list includes all of the federal buyers in your industry. Note: While you can find information about contracts put out to bid, information about contracts awarded via Simplified Acquisition is not made available.
Prepare your federal government elevator pitch
Develop your federal government elevator pitch, which should be no longer than a 30-second pitch you quickly can deliver to a federal contracting officer if you are able to speak to one in person or on the phone. Your pitch should include:
Information about you and your interest in bidding on federal contracts.
Information about what you sell or otherwise can do for the contracting officer
Information about why they should hire you (e.g., you provide emergency work; your past performance; you're available for small contracts; you qualify for one or more set-asides; key differences between you and your competitors)
Send email
After developing your federal government elevator pitch, you must turn it into an email. This email should include a few bullets that summarize everything you include in your pitch. Send this email to federal procurement officers after you talk to them. Add something personal to each email, so it doesn't look like a form email and to help build your brand with that specific procurement officer. Verified Vendors also should include a link to their Verified Vendor seal and to their federally formatted website.
Send email
Clients often ask us when to follow-up with a procurement officer. We've put together the following guidelines, but there is no real hard and fast rule:
Call at least every other week till you get the contracting officer on the phone.
Call three times over the six months that follow your initial conversation with the procurement officer. After this six-month period, call once each quarter.
Identify the procurement officers who seem more excited about your business or the by the products and services you offer. Call these procurement officers more often, maybe as often as once a week, especially if you know the procurement officer is about to put out a solicitation.
Call after you've submitted a bid.
Call after you've lost a bid and ask why. Procurement officers are often willing to tell you why they went with a different company (this is called a debriefing).
Call to say thank you after you've completed a contracted job.
How to price products and services
Price is key to getting your first federal contract, so bid very competitively. Remember that you may not make a lot of money from your first federal contract(s), but you will gain valuable past performance and experience, and make contacts with procurement officers who will keep you in mind for future, likely more lucrative contracts.
Consider basing your price on last year's award.
As you get more past performance, increase your bids.
Remember:
Read the entire bid twice. You can't afford to miss anything or not follow directions properly.
Have a peer or colleague double-check your bid. Look for spelling errors and make sure you've answered all questions/provided all requested information.
Use your bid template, which will save you time in the long run.
For more information about bidding on your first federal contract, we've put together a helpful video.