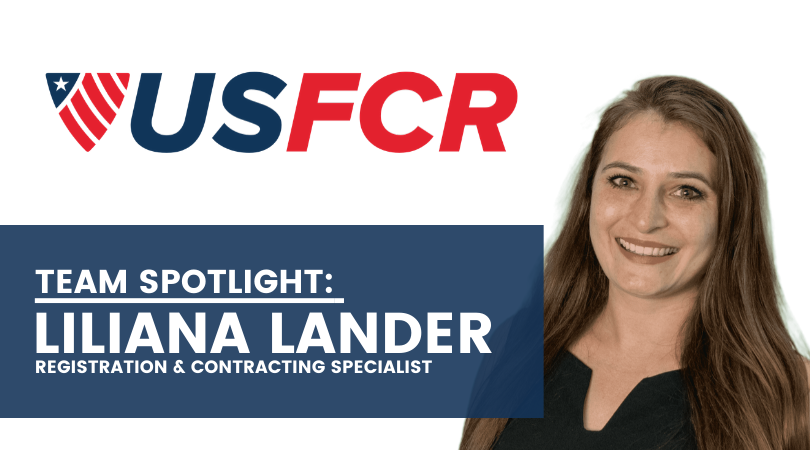 Since 2013, Liliana Lander has helped clients complete and renew their System for Award Management (SAM) registrations as well as learn how to bid on contracts, and communicate to procurement officers.
At US Federal Contractor Registration (USFCR), Liliana's job as a Registration & Contracting Specialist is to bridge the gap between businesses and the federal government. Liliana assesses businesses, their objectives, and connects them to the right USFCR resources for reaching those objectives. This can range from various set-aside registrations, USFCR Academy, and the Advanced Procurement Portal (APP).
As a Registration & Contracting Specialist, Liliana specializes in:
Simplified Acquisition Contracts
Micro-purchases
Small Business Set-Asides

HUBZone
8(a) Business Development Program
Service-Disabled/Veteran-Owned Small Businesses (SD/VOSB)
Economically-Disadvantaged/Women-Owned Small Businesses (ED/WOSB)
Liliana brings USFCR clients her knowledge in contract searching, networking, and the debriefing process.
Liliana Lander Testimonials
"We are pleased to write this review and recognize the exceptional service we received from Liliana Lander. She was not only professional, answering our questions and concerns. She was courteous and responded immediately when I emailed and/or called her with a question. These are stressful times and Ms. Lander reduced my stress with the superb service we received from her on our SAM registration."
- Sheila S.
---
"Liliana Lander has always been excellent to work with. She is so quick to respond to my questions and she helps me understand how to best use the USFCR service."
- Jennell
---
"Liliana is awesome. I was having a hard time renewing our SAM registration, and our company had just been scammed from a phishing email by a fake SAM renewal company. As soon as I talked to Liliana, she fixed everything for us and kept us in compliance. When it becomes time to renew again, we will be doing it with her specifically."
- Seren
---
"Liliana contacted me the same day regarding my question and helped me resolve it quickly. She has consistently provided this level of service over the past year that I have worked with her."
- Rob S.
---
"1.Excellent knowledge of the program. 2.Could answer any and every question. 3.Extremely helpful in guiding through the process. 4.Very responsive and prompt in exchanges and communications. 5. Outstanding in regards to customer service and attentiveness to assure the USFCR process is complete and accurate. 6. Other "Client Relations Specialist" should try to emulate to this "Client Relations Specialists" level."
- Jim H.
---
"Liliana Rocks....! - Liliana Lander is so efficient. I always enjoy speaking with her. She is very organized and knows her topic very well. She is always willing to help you, if you don't understand something in renewing your SAMS."
- Rhonda
---
"Lilliana Lander , has made my experience navigating the registration process a pleasure. She has been very thorough in her follow up. Definitely a great experience !!"
-Darrell
---
"Liliana Lander was professional and very supportive. Kept me updated on progress of my SAM application. Friendly and very courteous. I would recommend her services to anyone who needs help navigating the SAM application process."
- Charles
---
"Super nice and makes renewal super easy."
- Ashley
---
"LILIANA LANDER (our Registration and Contracting Specialist) has been of great help with our Sams - Duns # registration and any questions we have had along the way. She is very nice over the phone. She emails promptly back information that is requested. She has made the process of registration go smoothly."
- Candy
---
"Liliana has been extremely helpful over the past couple years, and it is clear she cares about providing the best service for our organization. She is patient and listens, and has made our experience enjoyable."
- Graham
---
"Thank you so much for helping with the USFCR registration for the Oconee County Board of Disabilities and Special Needs. The process was very smooth and easy thanks to you. I would not want to work with anyone else. Thanks again."
-Jerry
---
"I continue to have outstanding service from USFCR in maintaining our Government Contracting Registration. I normally work with Lilianna Lander. She is great to work with, very personable, and always ready to provide assistance and answer my questions. I appreciate the the proactive service we continue to receive."
-Thomas
About
Registration & Contracting Specialists