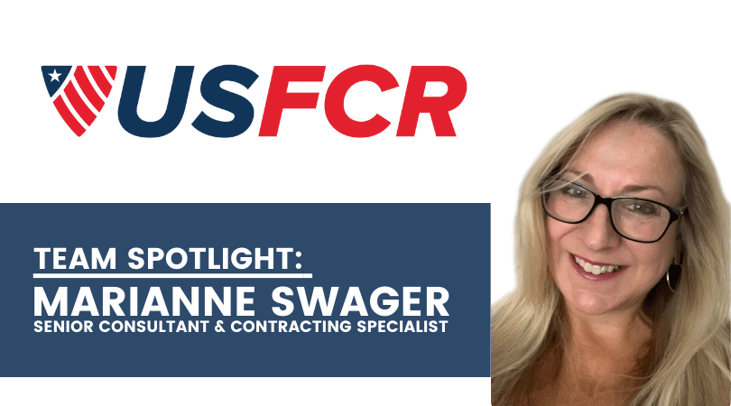 Since 2014, Marianne Swager has been bringing her vast knowledge of government documentation and the federal marketplace to her clients. With an extensive background in strategic business planning and marketing, her consultation has led to the success of many vendors.
Marianne operates our contracting consulting service at US Federal Contractor Registration (USFCR). Her job is to assess client needs and expected outcomes, reinforce contracting fundamentals, and provide help with the Advanced Procurement Portal (APP). Other areas in which she assists clients include capabilities statements, solicitations, offers, and elevator pitches.
As a Contracting Specialist, Marianne bridges the gap between businesses and the federal government. Marianne connects clients to the right USFCR resources for reaching their goals.
Before working at USFCR, Marianne has over 25 years of bank experience as a vice president, with a concentration that includes small business loans and retirement planning.
As a Senior Consultant & Contracting Specialist, Marianne Swager specializes in the following:
Simplified Acquisition Contracts
GSA Schedules
Setting Obtainable Goals
Small Business Set-Asides:

HUBZone
8(a) Business Development Program
Service-Disabled/Veteran-Owned Small Businesses (SD/VOSB)
Economically-Disadvantaged/Women-Owned Small Businesses (ED/WOSB)
Marianne brings USFCR clients an extensive background in working with small businesses and leading them to success.
Marianne Swager Testimonials
"US Federal Contractor Registration and Marianne have helped review my proposals prior to my submitting them and are a big part of why Eamon Chase has been awarded several federal contracts."
- Brett S., Eamon Chase, Inc.
---
"We didn't know what we were doing until I started working with Marianne Swager of US Federal Contractor Registration. She taught me how to put together an aggressive bid, and she also reviewed my bid before I submitted it."
- Andrew Brewer, Turnkey Services of Louisiana, LLC

---
"I contacted Marianne Swager of US Federal Contractor Registration for assistance in finding an approved vendor to use for a luncheon at the VA. Marianne was very helpful in assisting me and even pulled up the qualified vendors list and sent it to me via email. I would recommend Marianne as a helpful source in working with vendors and procurement officers in navigating the federal contracting system."
- Laurie A., VA San Diego Healthcare System
About Registration & Contracting Specialists