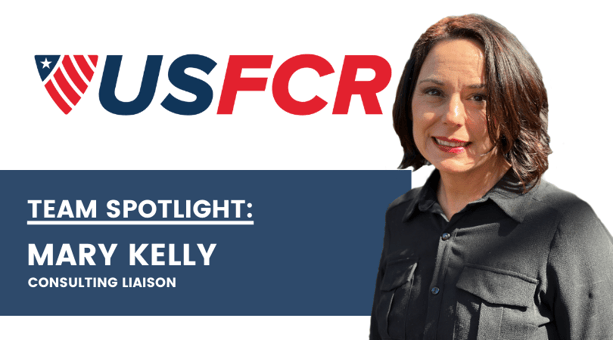 Mary Kelly joined the USFCR team in January 2019, having come from the suburbs of Philadelphia. She was looking for a more outdoor lifestyle for her and her children, and USFCR offered the perfect opportunity for growth. In her free time, Mary loves to run, read, go to the beach, go boating, and spend quality time with her family and friends. She is also determined to learn how to race cars.
Mary has embraced this field since joining USFCR, learning the process and regulations to help USFCR clients and the team behind the scenes. Mary has become quite close with many of her coworkers and considers them great friends.
She has served as a Senior Case Manager, Trainer, and Technical Writer and is now the Consulting Liaison. Mary is proud to have helped many clients get registered, trained her colleagues in the Case Department, and won government contracts while working as a writer. Her expertise lies in building relationships with clients.
As the Consulting Liaison, Mary is responsible for getting to know the consulting client and their business. She is committed to fostering a relationship to help them achieve their goals. This position requires Mary to manage the project simultaneously and guide the client through the setup process from start to finish, helping to keep them on track and in contact with the team.
Mary Kelly Testimonials
"I worked with Mary Kelly, and she was amazing. She answered all my questions in a timely matter and was very helpful in sorting through the information, which can be confusing. I would not have been able to complete this process without her."
- Creation Technologies
---
"Very helpful and knowledgeable. I can't praise them enough. Mary assisted us through the process, and we really appreciate her support, even though the technical difficulties we were having. Thank you so much!"
- Noreen A.

---
"USFCR and their agent Mary Kelly made out SAM renewal so easy! I was very thankful for her knowledge and quick responses to all my emails. Great job!"
- Sandra C.
About USFCR Case Management