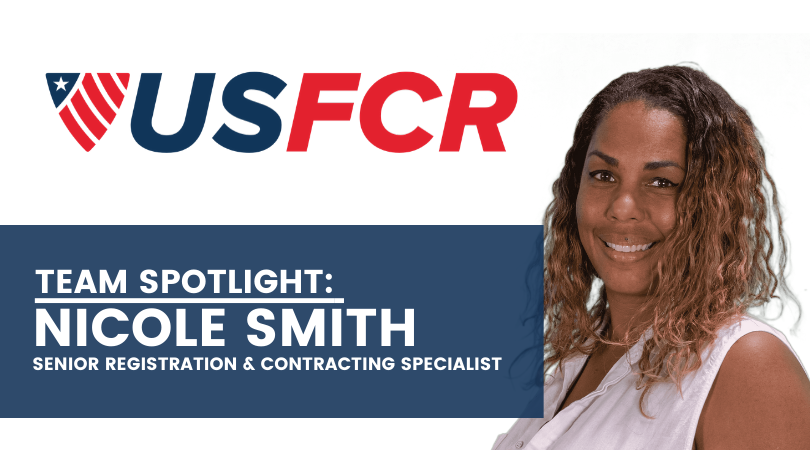 Since 2011, Nicole Smith has been helping clients win government contracts with her customized marketing campaigns. She is dedicated to the clients she works with and will do whatever it takes for them to succeed.
At US Federal Contractor Registration (USFCR), Nicole's job as a Senior Registration & Contracting Specialist is to bridge the gap between businesses and the federal government. Nicole assesses businesses and their objectives and connects them to the right USFCR resources for reaching them. This can range from various set-aside registrations, USFCR Academy, and the Advanced Procurement Portal (APP).
Before working at USFCR, Nicole worked as a junior underwriter in the mortgage industry and as a sales production assistant.
As a Senior Registration & Contracting Specialist, Nicole Smith specializes in the following:
Simplified Acquisition Contracts
Micro-purchases
Sealed Bidding
Procurement Outreach
Marketing
For USFCR clients, Nicole conducts technical assistance meetings to assess a business's federal presence and likelihood of success.
Nicole Smith Testimonials
"I am writing to commend Ms. Nicole Smith who went above and beyond to assist me in a SAM renewal matter. She was highly professional, extremely competent, and was outstanding in all aspects. She represents her agency in the best possible way. Just today (June 9) I had occasion to interact with Ms. Smith. She was again immediately responsive, professional, and an outstanding problem solver. She is really great at what she does. "
- Sandra H.
---
"Bay Metals & Fabrication has worked with Nicole Smith for many years with our SAMS account. She has always been professional and knows exactly what to do and how to help you if you have any problems during the process. She is always pleasant and goes above and beyond the call of duty. She is a great asset and I plan to do more business in the future with her."
- Margaret M. Bay Metals & Fabrication,

---
"Nicole, I just wanted to say a thank you for helping with our business needs. It was the very best move that I made when I was able to start working with you."
- Vicky F.
About Registration & Contracting Specialists