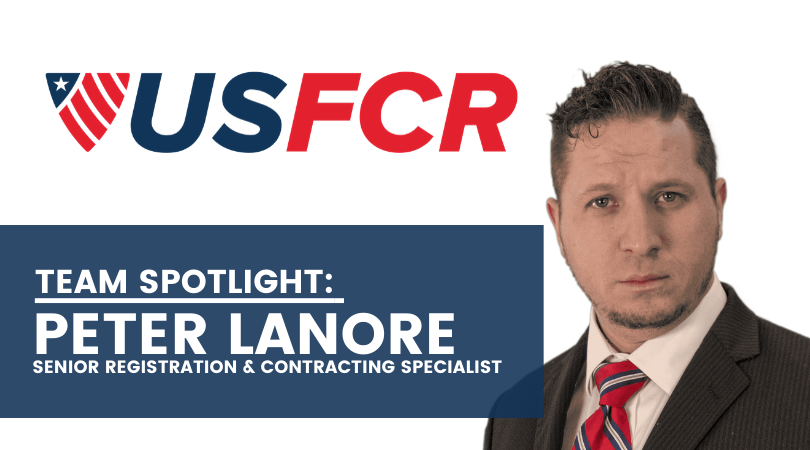 Since 2010, Peter LaNore has been applying his knowledge of federal marketplace trends and knowledge in government contracting to help clients succeed. He has also developed customized marketing solutions for businesses while helping them network with procurement officers.
At US Federal Contractor Registration (USFCR), Peter's job as a Senior Registration & Contracting Specialist is to bridge the gap between businesses and the federal government. Peter assesses businesses and their objectives and connects them to the right USFCR resources for reaching them. This can range from various set-aside registrations, USFCR Academy, and the Advanced Procurement Portal (APP).
Prior to working at USFCR, Peter used to renegotiate loan modifications.
Peter LaNore has also appeared on Episode 9 of The Government Buys...a Podcast.
As a Senior Registration & Contracting Specialist, Peter LaNore specializes in the following:
Simplified Acquisition Procedures
Supply Chain Logistics
Emergency Contract Management
Strategic Analysis
Radical Asset Growth
Peter brings USFCR clients proven methods for strategic federal planning and government procurement.
Peter LaNore Testimonials
"Like I stated over the phone, "Peter, you and your staff are the best $600 spent. You save us so much time and headache, by working the paperwork for us. Also your office has great customer service."
- Kimberly W., US Army & Air force Exchange
---
"Mr. Lanore, I would like to take this opportunity to express how well you presented professionally and with keen insight concerning your conduct and professionalism. You were both supportive and engaging when providing needed information regarding my understanding of the Acquisition policies and procedures. Thank you Sir for the support.."
- Samuel H., Vet Center Director

---
"Mr. LaNore provided me with quick and adequate information including forwarding the electronic links regarding GSA Blanket Purchase IT 36 FSSI Print Management Agreements that I was unable to identify on the GSA Advantage Webpage. I am sending this message as words of appreciation for his excellent assistance to my telephonic request. Peter thanks again for your assistance. Please enjoy the remainder of your day."
- Chuck G., Compass Systems Consulting, Inc.
About
Registration & Contracting Specialists