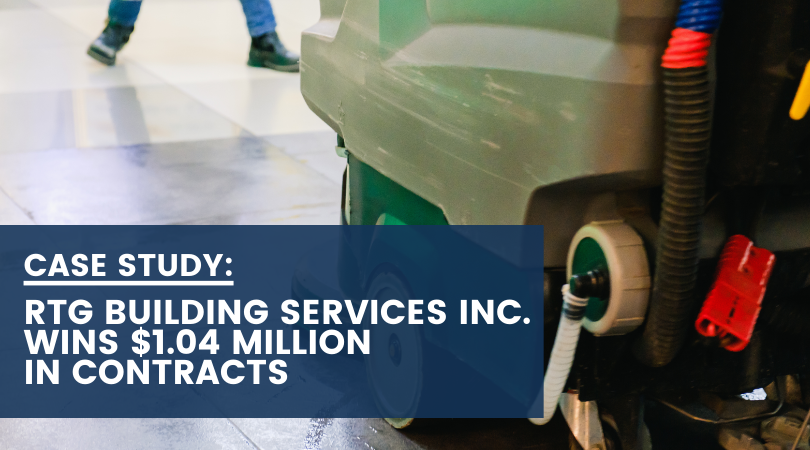 US Federal Contractor Registration client, RTG Building Services Inc. won $1.04 million in contracts with the U.S. Air Force and Department of Veterans Affairs. Learn how they accomplished this in the case study below.
Watch
Background
RTG Building Services, Inc. is a small business specializing in commercial cleaning services. This includes daily janitorial services, window washing, carpet care, and floor care. They entered the federal marketplace to expand their business with more financially advantageous contracts over the local market's "lowest bidder mentality."
The company started working with USFCR after inheriting a long-term contract from a previous owner with only two weeks to rebid. They needed guidance and working knowledge on what the bid entailed, how to present their offer, and how to meet the solicitation requirements. After successfully renewing their contract, they went on to seek out more opportunities with the federal government.
Solution
RTG had previously worked with USFCR, enrolling in the Simplified Acquisition Program (SAP) and USFCR Academy. The company later went on to enroll in the Historically Underutilized Business Zone (HUBZone) Certification and 8(a) Business Development Program Certification.
RTG, already registered in the System for Award Management (SAM), had provided USFCR with much of the information required for the HUBZone Certification. To complete the certification, RTG worked with USFCR's Special Services department to gather qualifying data such as employee's addresses and utility bills. Once USFCR verified the information, Special Services submitted the application, and the company was HUBZone certified.
Next, USFCR registered RTG in the 8(a) Business Development Program. Since the 8(a) set-aside has extensive requirements for certification, USFCR Special Services researched RTG to determine if the business would qualify. After qualification was determined, they gathered the needed documents to submit for application.
RTG also continued its enrollment in the USFCR Academy. USFCR Academy is an educational resource for contractors and provides support for bidding. One of the features of the USFCR Academy is the review of up to five bids per month for RTG.
Outcome
The implementation of the HUBZone Certification and 8(a) Business Development Program Certification was a success. RTG, already having developed a past performance record by renewing its janitorial services contract with the U.S. Army Corps of Engineers, went on to win two more opportunities to work with the federal government
The second contract they won, valued at around $570,000, was with the U.S. Air Force for specialized window cleaning. Then RTG partnered with Service-Disabled Veteran-Owned Small Business (SDVOSB) Mark VII Enterprises as a subcontractor to perform strip and waxing floor care for the Department of Veterans Affairs. The value of this contract is about $470,000.
USFCR Services Used
Weekly webinars
On-demand courses
Review of proposals
Special services gather geographic and employee info
USFCR submits application for time effectiveness
Special services gathered relevant financial and ownership info
USFCR submits application for time effectiveness