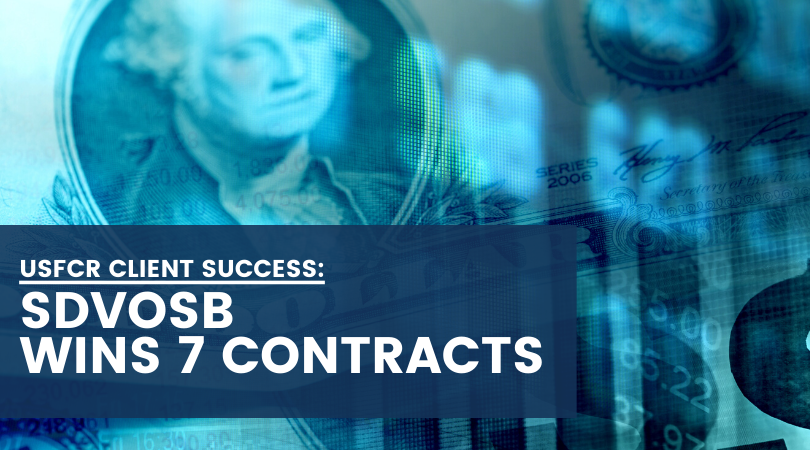 CW Financial & Management, LLC (CW) is a SDVOSB based out of Decatur, Illinois. After getting registered through USFCR and learning with the USFCR Academy, they won seven federal contracts in their first year in the federal marketplace.
Find out more about how, with USFCR's services, CW was able to win seven contracts.
Contents
Background
"Starting with my SAM registration, it took me three months to win my first award."

- Craig Williams | President of CW
Veteran and business owner, Craig Williams wanted to get his company, CW Financial & Management Group, LLC (CW) into the federal marketplace.
This is because every year, the U.S. government is required to spend 3% (≈$15 billion) of their contracting budget on Service-Disabled Veteran-Owned Small Businesses (SDVOSB).
He also saw several opportunities that were recently awarded that fit his company's capabilities. However, there were several obstacles in the way.
First, CW needed to get registered in the System for Award Management (SAM). Then, the business had to get certified as an SDVOSB.
To become competitive in the federal marketplace, Craig also needed to be trained on how to conduct business with the government.
Solution
"For a small business like mine, USFCR was able to provide me with the support I needed. They are always accessible and dependable."
- Craig Williams | President of CW
To get started in federal contracting, CW enlisted the help of US Federal Contractor Registration (USFCR).
USFCR provides government registration processing and training to government contractors.
First, USFCR Case Management processed CW's SAM registration. By outsourcing this process, CW was able to get in compliance for government contracting faster and without errors or delays.
They also received a USFCR Verified Vendor seal to display for contracting officers and prime contractors to show their registration is being managed by USFCR.
The next step was getting CW certified as a SDVOSB.
This process was similar to getting CW registered in SAM. With the information that CW submitted for their SAM registration, USFCR Special Services was able to qualify and then get CW certified as an SDVOSB.
Finally, CW enrolled in USFCR Academy. USFCR Academy offers a variety of resources for contractors of all levels in the federal marketplace.
With access to live webinars, bid trainers, and an educational content library, Craig was able to learn about the federal marketplace from the ground up.
Outcome
By using USFCR's services, CW had a compliant SAM registration and became SDVOSB certified.
Through the USFCR Academy, Craig Williams was able to learn the best business practices for working with the federal government.
Within three months of getting registered in SAM, CW won their first federal contract.
The contract was with the Department of Veterans Affairs (VA). With this success, CW kept placing bids with the VA, and they won a total of seven federal contracts in under one year.
USFCR Services