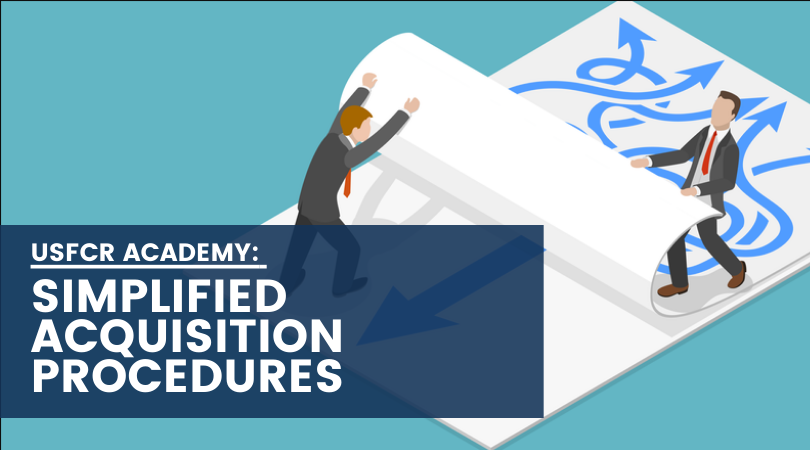 On Thursday, April 30, 2020 at 11:00 am ET USFCR Academy will host a live webinar about the Simplified Acquisition Program. Sign up for the webinar and learn more about simplified acquisition procedures in this blog post.
Formally known as the "Federal Small Purchase Threshold", the Simplified Acquisition Procedures (SAP) are outlined within the Federal Acquisition Regulation (FAR) 13.
In FAR 13, simplified policies and procedures for the acquisition of supplies and services, including construction, research and development, and commercial items, are defined and thresholds are identified.
The simplified acquisition threshold is a dollar limit placed to define when the SAPs can be used. The current threshold is set at $250,000. Purchases for commercial off the shelf items have a higher threshold.
If a commercial items purchase exceeds the simplified acquisition threshold but doesn't exceed $7 million with option years, then it is possible for faster and simpler acquisition processes to be used.
The current micro purchase threshold is $10,000 and so any purchases made between $10,000K and $250,000 can be made with Simplified acquisition procedures.
The federal government is always looking for faster, quicker ways to purchase their goods and supplies. This FAR was created to benefit the government and the economy.
The purpose of this FAR was the reduce administrative costs to the government, increase efficiency and improve opportunities for small businesses of all set-asides to obtain a fair proportion of Government contracts.
Did You Know?
The Stafford Act has increased the Simplified Acquisition procedures threshold temporarily from $250,000 to $750,000 and increased the commercial items threshold from $7,000,000 to $13,000,000.
This allows the government to purchase additional supplies and services with SAP that are needed to combat COVID-19. The contracts typically reserved for small business are now larger. This is a great time for interested businesses to get registered and sell to the federal government.
FACT
There are specific sources allowed for SAP contracts. They are as follows:
Qualified Small Businesses
Small Disadvantaged Businesses
WOSB/EDWOSB
HUBZone Small Businesses
SDVOSB/VOSB
Exceptions to the simplified acquisitions procedures are with awards made to existing IDIQ contracts and contracts with required continuous sources of supply like the Federal Prisons Industries.
Back to Basics
USFCR created the Simplified Acquisition Program for small businesses to market themselves effectively to the federal government and win SAP contracts.
We help determine that a business is qualified for any set-asides, get them registered in SAM, set-up a proper profile in DSBS, create an online capabilities statement and of course teach them what they need to know with the USFCR Academy.