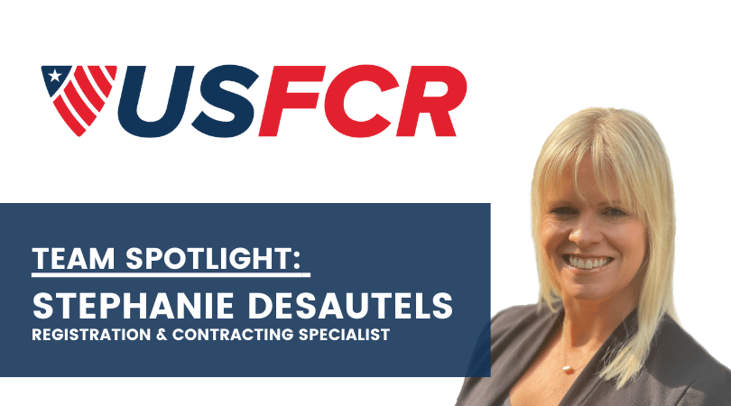 Since 2021, Stephanie Desautels has been applying her knowledge in account management and operational strategy development to help businesses excel in the federal marketplace. Her clients can always rely on her friendly and open personality in every interaction.
At US Federal Contractor Registration (USFCR), Stephanie's job as a Registration & Contracting Specialist is to bridge the gap between businesses and the federal government. Stephanie assesses businesses, their objectives, and connects them to the right USFCR resources for reaching those objectives. This can range from various set-aside registrations, USFCR Bid Training, and the Advanced Procurement Portal (APP).
Prior to working at USFCR, Stephanie was the Vice President of Sales at Delta Marketing International, LLC for over 20 years. There she became an accomplished Sales, Marketing, and Operations Manager, utilizing her diverse management experience in the industrial distribution industry and charitable organizations.
She and her family decided a change of pace was needed in 2021 and packed up their home in upstate New York and moved to the Sunshine State (Florida), where they enjoy the outdoor lifestyle and year-round warm weather.
She ultimately decided to work at USFCR because it piqued her interest. The work was completely different, but she could utilize her professionally developed skills in a way that helped people.
Here she enjoys the relationships she develops with her clients and loves helping her clients succeed in the federal marketplace.
As a Registration & Contracting Specialist, Stephanie Desautels specializes in:
Simplified Acquisition Procedures
Federal Startups
Small Business Set-Asides


HUBZone
8(a) Business Development Program
Service-Disabled/Veteran-Owned Small Businesses (SD/VOSB)
Economically-Disadvantaged/Women-Owned Small Businesses (ED/WOSB)
Stephanie brings USFCR's client's proven methods for implementation of new business acquisitions and extensive knowledge of strategic partnerships/consulting.
What People are Saying about Stephanie
"Stephanie was absolutely instrumental. She and Zakia pretty much held my hands throughout the process and made it easy. I appreciate Stephanie and Zakia to the highest degree."
- Anthony E., Neyer Properties
About
Registration & Contracting Specialists