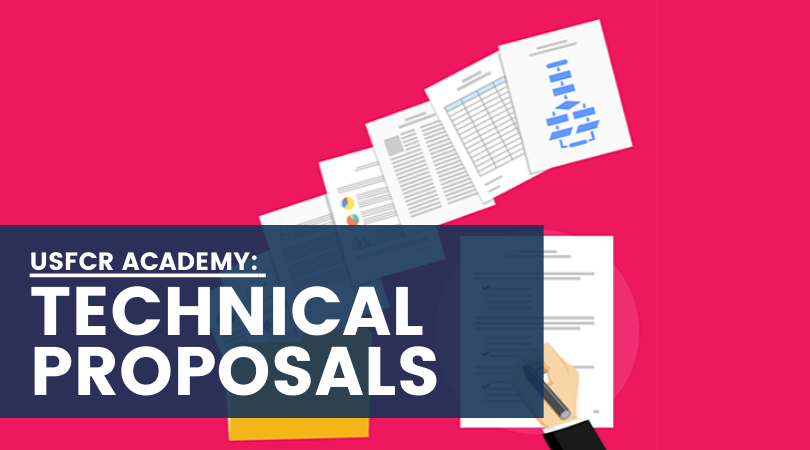 Join us on Wednesday, June 3, 2020 at 2:00 PM ET for a free, live USFCR Academy webinar on Technical Proposals. Sign up here and learn more about technical proposals in this blog post.
The technical proposal is considered the most creative section of a proposal, however that doesn't mean that vendors should include irrelevant information to the offer.
The technical proposal is a narrative where vendors must prove that they understand the objectives of the potential contract to not only meet the expectations but exceed them. In order to prepare for writing the technical proposal, a vendor should read the SOW, PWS or Scope of Work in the solicitation document.
Did You Know?
One of the greatest ways to come off as a subject matter expert is to send suggestions to the contracting officer on ways to improve the objectives.
These suggestions should be sent during the Q&A period identified in the solicitation document. If the Q&A period deadline has passed, the vendor can include the suggestions in the technical proposal.
FACT
If a vendor knows that they will need assistance with fulfilling the solicitation requirements, assistance should be identified in the technical proposal.
Subcontractors, partnerships, manufacturers and suppliers will have to be identified in the technical proposal because the work they contribute is part of the vendors overall offer.
Back to Basics
Technical proposals can contain many elements in addition to a narrative that explains the procedures for completing the objectives. If providing an offer to the government for a product, specification sheets, drawings, shipping information and lead times should be provided.
For services related proposals, materials and equipment to be used, schedules for the proposed team and any documents that prove expertise can be provided.
Remember that the technical proposal is separate from the price proposal section, so price should not be discussed in the technical proposal.