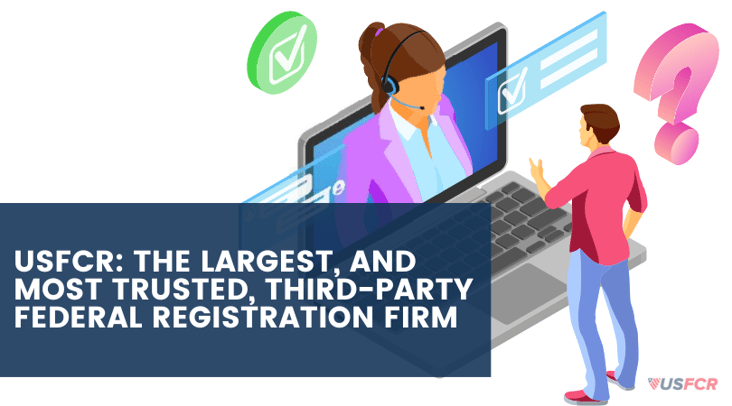 Editor's Note: This post was originally published in March 2019 and has been updated for accuracy and comprehensiveness.
So you've done your homework and learned about the immense benefits of government contracting. Uncle Sam is a customer who has billions to spend every year, is always looking to buy, and will spend more in recessions. Plus, there are exclusive opportunities just for small businesses.
Naturally, you're going to want a piece of that pie and get registered in the System for Award Management (SAM).
Looking online, you find a variety of third-party companies that handle SAM registrations. After all, who wants to handle tedious government paperwork and risk fines for errors?
Not you.
Things look pretty uniform across the board. How different could it be to have your SAM registration handled by one company vs. another? It could actually be quite different. This decision will determine where you take your business in the next five, ten, or even twenty years.
Some firms just want to get you registered and then it's onto the next business. US Federal Contractor Registration wants to get you registered and actually help your business win contracts.
Our SAM registration service is our basic package, but it's everything besides basic.
Here is what you get besides just being compliant to work with the federal government:
Staying On Top of Changes
New policies in SAM can affect your payments.
Case Managers track these policies and proactively make sure you're compliant.
Support from the Federal Service Desk can leave you on hold for hours.
Government contracting is hardly static. New regulations and policies are always being put into action. It's not often, but once in a while, it could feel like they're pulling the rug from under you. Just ask anyone who hit a brick wall when the SAM started using Unique Entity ID's (UEI) at the beginning of 2022.
(SAM registrations are still being processed from April.)
During this period, USFCR clients have had Case Managers helping them around the clock. Everyone else was left to call the Federal Service Desk and be put on hold for several hours at a time.
We were around before SAM.gov was even implemented, and we'll be here after the next system is implemented. We've got the track record and the "war stories." Let us worry about the changes. You've got a business to run and contracts to win.
DSBS Setup
DSBS is used by prime contractors and agencies alike to find small businesses.
Most profiles are incomplete.
With USFCR, your DSBS profile will stand out.
Every year, the federal government seeks to spend roughly 23% of its budget on small businesses. To help agencies reach these goals, they developed the Dynamic Small Business Search (DSBS). DSBS is a directory of all small businesses that are registered in SAM and that are qualified for federal contracting.
Most small businesses leave their DSBS profiles incomplete. To give you an advantage in federal contracting, USFCR will complete and optimize your profile according to the best government marketing practices.

Join Our Network of 180,000 Vendors
USFCR has a wide business network spanning many industries and regions.
We help coordinate clients with needs who match your capabilities.
Subcontracting is a viable way to get started in government work.
Being a prime vendor isn't the only way to make money in this sector. Actually, many people get their start by subcontracting since it's a good way to develop Past Performance.
Plus, there are plenty of instances of businesses partnering up or forming joint ventures to take on contracts.
When you get registered with USFCR, you're joining a network. As the largest third-party registration firm in the world, we've worked with businesses of different sizes and industries.
You've probably bought from one of them recently or seen one of their ads on TV. If we spot a situation in which two or more clients would benefit from working with each other, we'll get you connected.
A Team Dedicated To Your Business
Get access to a wide variety of federal contracting experts.
We treat our clients like family and we're personally dedicated to your success.
USFCR offers a level of transparency that is unparalleled in our industry.
Your venture into government contracting doesn't have to be done alone. When you work with USFCR, it's almost like adding an entirely new department to your business but at the fraction of the cost.
In this sector, knowledge is worth more than gold, and you'll have access to perspectives from individuals who come from a wide variety of professional backgrounds.
A business is essentially a group of people working together and at USFCR, we recognize that. To us, you're not just a client, you're part of the family. We take the time to get to know you and your business. The best part of our job is seeing you succeed.
Unlike other third-party registration firms, we offer the highest degree of transparency and accountability to our customers. That's why anyone you need to contact can be reached from our staff page.
Continuous Support
Your Case Manager will help you with any issue that may arise with SAM.gov.
They will also help make compliant changes to your registration if necessary.
You will be notified for renewal months before the gov't flags you as a risk.
We're not here to just open the door to government contracting. We're here to help you every step of the way.
If you face any issues in compliance or have changes that need to be reflected in your registration, our team will be on standby to help.
Plus, we'll even notify you ahead of time for renewal. Many contractors are aware that their SAM registration lasts for a year. What a lot of them don't know, is that SAM prefers your renewal to be 60 days early. Government agencies tend to avoid contractors whose SAM could expire early on in their performance period.
We take care of the renewal process for you so it never crosses this line.
Save Time
Registration deters many businesses from government contracting.
Get yours done as quickly as possible with our services.
Avoid delays or rejections that other businesses face when getting registered.
USFCR has handled thousands of SAM registrations. This process is routine to us, and we'll get yours done as quickly as possible while making sure everything is correct. You don't have to worry about it getting rejected or running into other delays. All you need to do is provide us with the necessary information and we'll handle the rest.
The sooner you're registered, the sooner you can start submitting offers. Some people win on their first bid and for others, it takes a few tries. The beginning is the most important part of the work. If you stay committed, you will be surprised by how much you've learned and the skills you've developed in one year.
Originally published Mar 28, 2019 1:49:00 PM, updated Jun 28, 2022