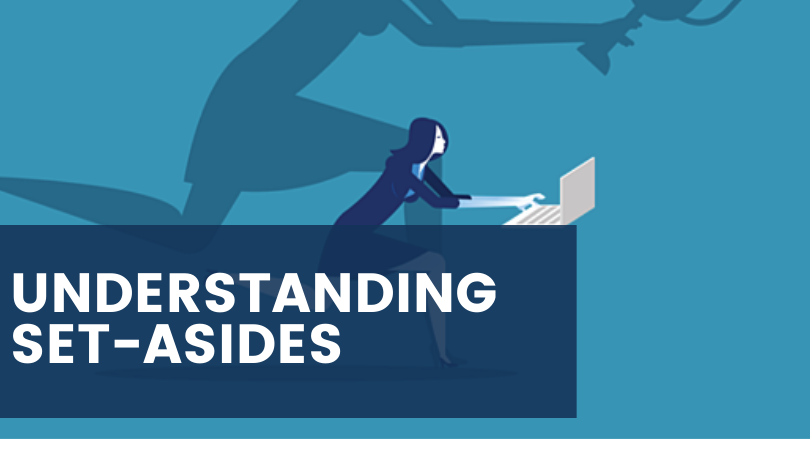 On Thursday, March 5, 2020 at 11:00 AM ET, US Federal Contractor Registration (USFCR) will be hosting a webinar titled, "The Advantage of Being a Woman-Owned Business in Government Contracting."
Sign up for the free webinar here, and read up about set-asides in this blog post.
Each year, the federal government seeks to spend about 23% of their total contracting budget on small businesses. They also have separate goals for specific types of small businesses.
The specific types are usually called "set-asides," since the government will set-aside a certain percentage of their spending for them.

It is defined in FAR 19.5 as:
"The purpose of small business set-asides is to award certain acquisitions exclusively to small business concerns. A "set-aside for small business" is the reserving of an acquisition exclusively for participation by small business concerns. A small business set-aside may be open to all small businesses. A small business set-aside of a single acquisition or a class of acquisitions may be total or partial."
Set-Aside Spending Goals
The following are the spending goals for each small business set-aside:
Small Business - 23%
Economically Disadvantaged/ Women Owned Small Business (ED/WOSB) - 3%
Service-Disabled Veteran-Owned Small Business (SDVOSB) - 3%
Historically Underutilized Business Zone (HUBZone) - 5%
8(a) Business Development Program - 5%
Did You Know?
Prime vendors that are deemed as Other Than Small Business (OTSB) who are awarded contracts valued over $750,000 are required to submit a subcontracting plan to the government that details how they will subcontract a portion of their contract to one or more small businesses.
OTSB includes large businesses, state and local governments, non-profit organizations, public utilities, educational institutions, and foreign-owned firms that receive federal contracts, if any portion of the contract is to be performed in the United States.
FACT
Every federal contract that has an anticipated value above the micro-purchase threshold ($10,000) and below the Simplified Acquisition Threshold ($250,000) is required to be automatically and exclusively set-aside for small business as long as the rule of two applies.
The Rule of Two states that if two or more responsible small business vendors express interest in a procurement or are deemed competitive on a quote or proposal, then the government shall add a corresponding set-aside requirement to the solicitation.
Back to Basics
Each set-aside designation has a unique set of qualifications. For example, there are more qualifications for becoming a WOSB other than being a woman owner.
It's important to figure out if a business qualifies before starting the registration process for any of these set-asides, or else valuable time, money and energy can be wasted.
When working with USFCR, our Case Team verifies your information to confirm that you qualify for a set-aside before starting the process.