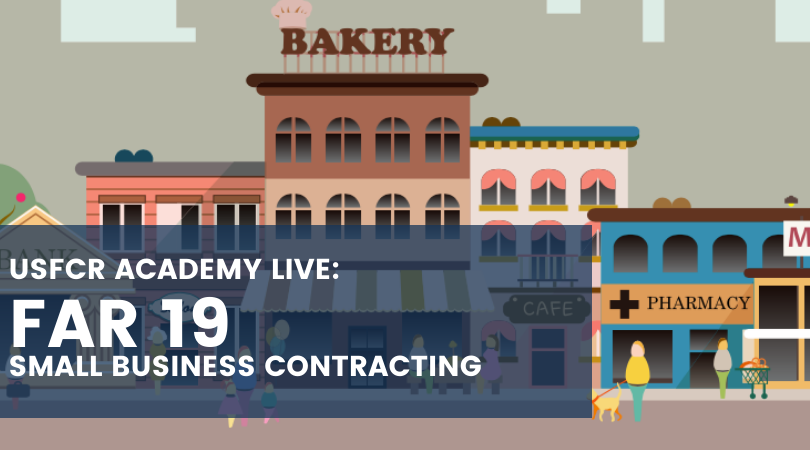 This month we are covering the basics of understanding the FAR (Federal Acquisition Regulation). It is a set of regulations issued to make a standard set of processes for government acquisitions. If you are a small business owner, FAR 19 is a part that you should pay particular attention to.
Catch USFCR Academy Live Every Wednesday at 2 PM ET on Facebook.
FAR 19 - Small Business Programs
In this part the government implements the acquisitions related to sections of the Small Business Act, the Armed Services Procurement Act, and Executive Order 12138. This part defines the eligibility criteria for participation in small business programs, defines the role of the Small Business Administration (SBA), defines set-asides, explains the subcontracting assistance program, and sole source awards.
As defined in the FAR 19 there are contracts that can be set-aside for:
Did you know?
The federal government recognizes small businesses based off the size standard for their industry. A size standard is the largest that a business can be and still qualify as a small business for federal government programs.
Size standards are determined by a company's primary North American Industry Classification System (NAICS) code. The SBA maintains a size standard table that is organized by NAICS code and further defined by either the number of employees or annual gross revenue.
For the number of employees the government defines this as the number of employed persons domestic and foreign affiliates of a full-time, part-time, or temporary basis.
If the employee is receiving a W-2 then they will be counted. The annual revenue is defined by the annual gross interests, rents, fees, commissions, and other sources.
To check on a businesses size standard, got to the SBA website and download the most recently updated table.
Fact
When it comes to sole sourcing and federal contracts, each small business set-aside has their own standards for what constitutes a contracting officer to justify a sole source award. Each set-aside has a governing limit on the contract value to be sole sourced, an expectation of offers to be received, and a definition on any preceding contractor rules.
Back to Basics
The FAR provides government-wide uniform policies and procedures for acquisition. A vendor can view all FAR regulations on Acquisition.gov.