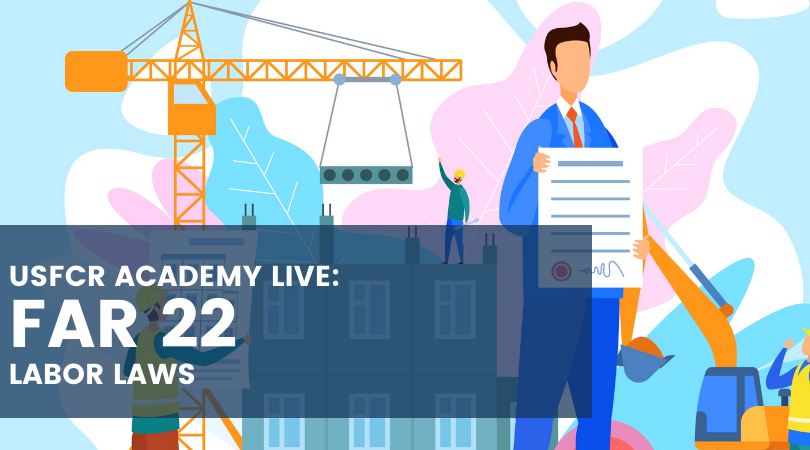 This month on USFCR Academy Live, we are covering the basics of understanding the Federal Acquisition Regulation (FAR). FAR is a set of regulations issued to make a standard set of processes for government acquisitions.
Check out the new episode of USFCR Academy Live every Wednesday at 2 PM ET on Facebook.
FAR 22 - Application of Labor Laws to Government Acquisitions
In this part the government defines general labor law policies and how they relate to federal acquisitions. The FAR encourages contractors to cooperate with both federal and state agencies that create labor requirements for:
Safety
Health and sanitation
Maximum hours and minimum wages
Equal employment opportunity
Child and convict labor
Age discrimination
Disabled and Vietnam veteran employment
Employment for workers with disabilities
Eligibility for employment under United States immigration laws
Any speciality labor laws such as those for federal construction alteration, or repair, including painting and decorating, of public buildings and public works are explained.
Did you know?
The government aims to be transparent with the all approved standard labor wages. The U.S. Department of Labor's Wage and Hour Division oversees the addition of wage standards for service employees on the wage determinations database found on beta.sam.gov.
If a contractor or subcontractor will be servicing a contract valued over $2,500 then the contract must contain a wage determination. The following factors influence the determination of wage rate:
Ability to pay
Demand and supply
Prevailing market rates
Cost of living
Bargaining of trade unions
Productivity
Government regulations
Cost of training
Contractors and subcontractors should be viewing these wage rates to ensure that they are factoring in a federal approved labor wage into their proposal amount. The wage determinations are organized by individual job description and location of service. there is also a federal hourly minimum wage that is established for both contractors and subcontractors at $10.10 per hour.
Fact
Executive order 11755 established convict federal labor laws. In accordance with FAR 22.201, "care must be executed to ensure to avoid either the exploitation of convict labor or any unfair competition convict labor and free labor in the production of goods and services."
The executive order also states that contractors are able to employ the following people without penalty when performing on a contract:
Persons on parole or probation
Persons who have been pardoned or who have served their terms
Federal prisoners
Non-federal prisoners authorized to work at paid employment in the community under laws of a jurisdiction listed in the executive order
Back to Basics
Subpart 22.8 of the FAR outlines the Equal Opportunity Clause, the policies and procedures related to nondiscrimination in employment by contractors and subcontractors.
The Equal Opportunity Clauses requires all agencies, contractors and subcontractors to promote "the full realization of equal employment opportunity for all persons, regardless of race, creed, religion, sew, sexual orientation, gender identity, or national origin," as well as to prohibit for "discharging, or in any other manner discrimination against any employee or applicant for employment because the employee or applicant inquired about, discussed, or disclosed the compensation of the employee or applicant or another employee or applicant."