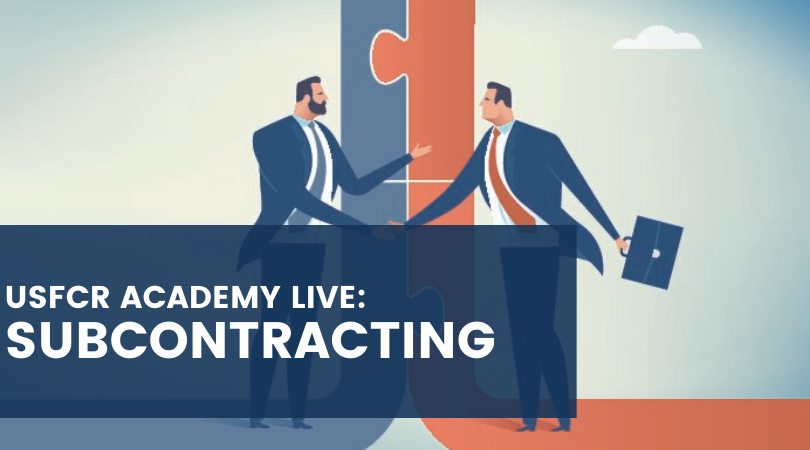 On this week's episode of USFCR Academy Live, we're covering subcontracting. Catch the latest episode every Wednesday at 2 pm ET on Facebook.
In federal contracting, there are two types of vendors that can be paid on contracts: prime vendors and subcontractors.

A prime vendor is the principal vendor that provides a service or product to the government. They are in charge of government communication and contract performance. When a prime vendor is not able to perform all the work on a contract themselves or is in need of purchasing a product in order to create their final product, they rely on other vendors called subcontractors.
A subcontractor is a vendor who is awarded a portion of an existing contract by a prime vendor. The subcontractor is reports to the prime vendor and not the government directly. There can be multiple tiered subcontractors on one project.
Did You Know?
The Miller Act allows subcontractors to make a claim against a bonded contractor for payment. Both tier 1 and tier 2 subcontractors can go after bonds.
If a subcontractor completes a project but doesn't get paid, encounters back charges, or the negotiated rate changes mid-contract, subcontractors have the opportunity to have the bond pay for the work serviced.
There are some stipulations to this:
Project needs to be in excess of $100,000.
First tier subcontractors and material supplies can make claims
Second tier needs to send notice about the bond claim need within 90 days
Fact
The government has the right to check any subcontractor for exclusions in the System for Award Management (SAM). Exclusions, formerly the Excluded Parties List System (EPLS), identifies those parties excluded from receiving federal contracts, certain subcontracts, and certain types of federal financial and non‑financial assistance and benefits.
As a prime vendor, it is a good idea to have your subcontractors registered in the System for Award Management (SAM) and actively check their registrations for any exclusions before adding them to your subcontracting plan.
Primes who are interested in having assistance with the management of their subcontractors can get enrolled in USFCR's Vendor Management and Compliance Program to verify their SAM registrations' compliance and exclusions.
Back to Basics
Primes are required to submit advanced notice of subcontractors within their bid proposals. The government has the right to consent to the use of any subcontractor listed in their subcontracting plan. According to FAR 19.704, every subcontracting plan must include:
Percentage goals for using small business and other small business set-asides
A statement of total dollars planned to be subcontracted to small business
A description of the principal types of services and supplies planned to be subcontracted.